BJP sure of 300 in UP; Congress sure of Punjab
[vc_row][vc_column][vc_column_text]Even as the BJP tsunami swept over Uttar Pradesh and Manipur even, with Goa still in the balance as the clock struck 2:10pm on Saturday (March 11), there were two more observations critical to the elections that have turned all predictions upside down.
The Aam Admi Party (AAP) has failed to find favour with the electorate. It has struggled to find a footing in both Punjab and Goa, where it pushed into, with huge preparations and it certainly failed to become a logical alternative to the BJP except in the urban area of Delhi. It is time for Arvind Kejriwal to introspect and find a reason why it failed at the grassroots.
The Manipur verdict is moving down a path nobody expected it to take. Irom Sharmila's defeat was a wakeup call, and by the time things started getting less ambiguous, the BJP had crept up into a position where it would not need a helping hand from rebel MLAs.  
In Uttar Pradesh, with the BJP striding towards the 300 figure and beyond, the results of the infighting of the Samajwadi Party are showing up. Shivpal Yadav, who was removed just before the elections, appeared in a victory mode, cheering and saying:  "Sabhi logon ko badhai." Earlier, he had tweeted: "Ye ghamand ke haar hai."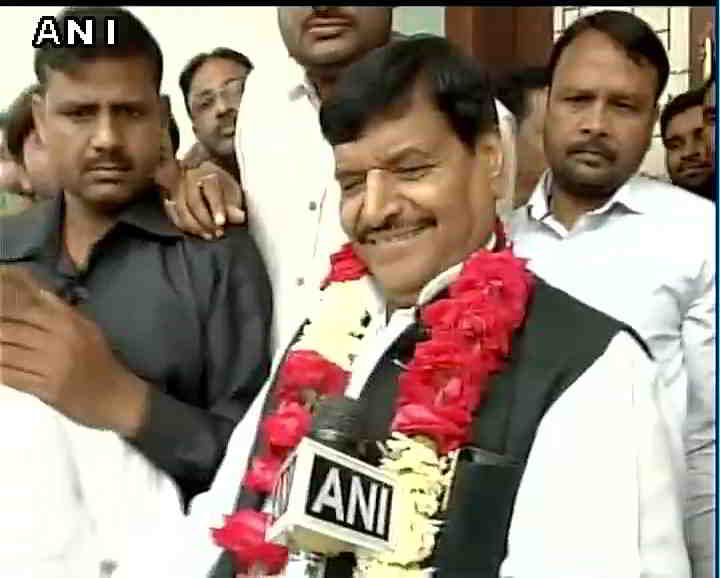 It was a sad reflection of the way things are, and Mulayam Singh Yadav, yet to make a comment, would not be happy with the way things were handled in a complex state by his son Akhilesh. Shivpal's comments hit right into the heart of the party.
Congress comes in next, not in numbers, but in accountability. They are leading in 7 seats, having won only one. How would Rahul Gandhi explain to the SP their demand of 100 seats and how his party has handled it?
Mayawati Bahujan Samaj Party has been virtually washed away, leading in 16 and having won only 2. She has claimed that the EVMs had been tampered with; she said she wants to go to court, start a movement. All in vain, because the verdicts have been overwhelming.
In Uttarakhand, all early drama was washed away with Chief Minister Harish Rawat losing both seats he contested.
Here are the basics of each state, with some special quotes.
UTTAR PRADESH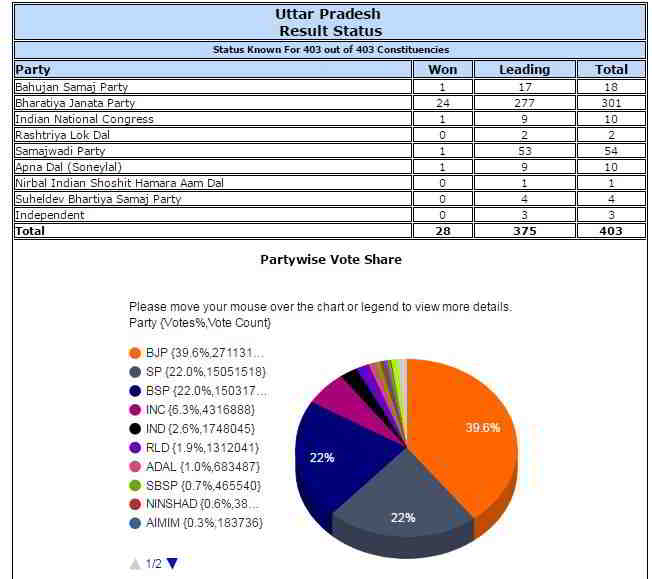 The colour of Holi this year is just one: saffron. So it seems as the Uttar Pradesh results started coming in. all exit polls, as usual were proved wrong in t his state, with the BJP now ahead in 256 seats, having already won 49.
CM Akhilesh Yadav's SP is leading in a paltry 43, having won only 10, Congress at just 8 and 1 and Mayawati's BSP at 15 and 2.
Demonetisation has had no effect so far, loss of jobs has not reflected in the showdown and the steady growth of the Modi wave has turned into a tsunami now.
Here are the top leaders:
Kunda: Raja Bhaiyya leading, Gayatri Prajapati trailing;
Moradabad: BJP's Alaka Roy leading; Varanasi South: Neelkanth Tiwari, BJP, leading.
Quotes:
Somnath Bharti said: "We don't indulge in politics of religion or caste and never will. Yes, its Modi's win, but hum log lage rahenge, logon ko aware karne ke liye."
Surendra Rajput, Congress spokesperson:  "It's Modi's win and congrats to him for that. But we expect that he will fulfill the promises that he has made, not indulge in jumlas. We do alliances for something constructive. It's up to the voter to give a stamp of approval on it."
Pankaj SIngh, Rajnath SIngh's son, won from NOIDA. Says: "BJP going to break its own record. 1991 Kalyan Singh's record. Responsibilities increased. Kaam bolta hai issue has become non-issue."
Anila SIngh: "The way corruption has become rampant. It's important to open files to set example. this was our promise. To give them a transparent government."
Voters of India have risen above caste, religion and other factors. People have reposed their faith in Modi. It is a new India: MoS Jitendra Singh. The message is at multiple levels
Deepak Mishra, SP spokesperson: "Every time SP has lost, it has introspected, worked on its shortcomings and emerged stronger next time."
Mohsin Raza: Congress had given them (Muslims) topi and madarsa. We are giving them Quran in one hand, laptop in anothe
Akali Dal chief Sukhbir Singh Badal is ahead of AAP's Bhagwant Mann by over 10,000 plus votes.Congress set for victory, leading in 26, having won in 51, BJP leading in none having won 3 and AAP leading in 4, won 17.
Punjab CM Parkash Singh Badal will resign on Sunday itself.
Navjyot Singh Sidhu said: "This is a new year's gift to Soniaji, Rahul and Captain saab (Amarinder Singh). People have defeated evil forces and dharma has emerged victorious."
Amarinder Singh: "Punjab voters have made the right choice/Man of the match in Punjab."
Ambika Soni: "Many contributed to Punjab results."
BJP sweeps, leading in 44, having won 12, Congress leading in 9, won 3.
MANIPUR
BJP won or are leading in 26 seats, Congress 25 seats.
Irom Sharmila has lost.
Congress' Ibobi Singh won.
GOA
The anti-BJP forces were not in the picture with only the Congress still the major force against it.
BJP and Congress are tied at 14 seats.
Laxmikant Parsekar, Goa CM, lost to Congress' Dayanand Sopte in Mandrem.
Compiled by Sujit Bhar, Meha Mathur, Sucheta Dasgupta,
Prabir Biswas, Punit Mishra, Bhavana Gaur, Kh Manglembi Devi,
Ram Lagan and Amitava Sen
[/vc_column_text][/vc_column][/vc_row]
Udaipur-Jaipur Vande Bharat operators prevents major accident, notices stones, rods on tracks, hit emergency brakes
Giving the details about the train and the incident, the CRPO said, KM 158/18, 158/19 on the Gangarar-Soniyana section were the stopping points for Train No. 20979 Vande Bharat Udaipur-Jaipur.
On Monday at Rajasthan's Bhilwara, train operators of the Udaipur-Jaipur Vande Bharat Express noticed stones and iron rods on the railroad track and quickly stopped the train using emergency brakes.
The Chief Public Relations Officer (CPRO) of North Western Railway confirmed the incident and said that the RPF has opened a complaint under the Railways Act after personnel inspected the scene in the Gangarar-Soniyana section.
Giving the details about the train and the incident, the CRPO said, KM 158/18, 158/19 on the Gangarar-Soniyana section were the stopping points for Train No. 20979 Vande Bharat Udaipur-Jaipur. Two rods, each measuring one foot, were inserted into the joggle plate on the previously mentioned km, together with some ballast, which caused the standstill, he added.
The incident took place under the control of RPF/post/Bhilwara at about 09:55. The area is governed by SHO/Gangarar in the Chittaurgarh district, according to the CPRO.
DSC/Ajmer, IPF/Bhilwara, PWI/Gangarar, local Police, and GRP authorities all paid the location a visit. SP/Chittaurgarh has been informed by DSC/Ajmer. RPF has filed a lawsuit in accordance with the Railways Act. The PWI/Gangarar is also providing SHO/Gangarar with a FIR, the official continued.
Meanwhile, stones, rail fasteners and iron rods are seen being laid on the railway tracks in a video that is going popular on X, formerly Twitter.
Fortunately, the alert loco pilots on duty quickly identified the impediment and took prompt action by deploying emergency brakes, averting any potential disaster. Their quick action likely saved lives and made sure that everyone on board was safe.
The District Police and the Railway Protection Force are both aggressively looking into this worrying situation. Their efforts are concentrated on finding individuals accountable for putting lives at danger and interfering with railway operations.
Prime Minister Narendra Modi inaugurated the Udaipur-Jaipur Vande Bharat Express last month, which runs six days a week, except Tuesday. It departs from Udaipur city at 7:50 in the morning and gets to Jaipur at 14:05.
Karnataka Eid clash: 43 persons arrested in Karnataka's Shivamogga district
Chief Minister Siddaramaiah said the government is not going to tolerate people throwing stones on religious processions of other religions.
Tension gripped Karnataka's Shivamogga district as two groups clashed during Eid e Milad un Nabi processions near Ragigudda. 43 persons have been arrested in the clashes on Monday. Chief Minister Siddaramaiah said the government is not going to tolerate people throwing stones on religious processions of other religions.
Section 144 has been imposed Ragigudda by the Shivmogga district administration. CM Siddaramaiah said the situation is currently under control. The police has arrested 43 persons. He added it is wrong to pelt stones to disturb the religious procession of others. He said the government is not going to tolerate such actions.
Milad un Nabi processions is usually marked by large gathering and celebrations. The procession was halted due to the chaos. The police said the protestors tried to breach the barricades set by the security forces. The police forces had to resort to a lathi charge in order to disperse the crowd. About five people were injured during the clashes.
Senior police officials said the situation was under control and the issue had been resolved. They appealed to the people to maintain peace and not spread rumours. Siddaramaiah said cases were being booked against those found guilty as pelting stones at another religious procession is against the law.
Siddaramaiah added Shivamogga city has been brought to normalcy again. All possible actions are being taken by the police force. The situation continues to be tense all over the city of shivamogga. The security arrangements have been tightened. The shops and the market has been asked to close down.
2500 policemen, two platoons of Karnataka State Reserve Police (KSRP), two platoons of rapid action force and 12 platoons of District Armed Reserve have been stationed across the city to thwart any untoward incident. The murder of Harsha, the Bajrang Dal activist which made national news had taken place in shivamogga city in February 2022.
Lal Bahadur Shastri Jayanti 2023: History, Date and Significance
Shastri was a freedom fighter and a close associate of Mahatma Gandhi. He played an important role in India's independence movement.
On 2nd October 2023, India also celebrates the birth anniversary of another great leader, Lal Bahadur Shastri. The day holds special significance as India remembers the legacy and life of the man who served as India's second Prime Minister. Lal bahadur Shastri was born on October 2, 1904 in Mughalsarai, Uttar Pradesh. He is a symbol of dedication and selfless service to the nation.
Shastri was a freedom fighter and a close associate of Mahatma Gandhi. He played an important role in India's independence movement. He was sent to the prison several times by the British government. After India got its independence in the year 1947 he served in many important ministerial positions in the government of Pandit Jawaharlal Nehru.
Lal Bahadur Shastri was born into a lower middle class family. His father's name was Sharda Prasad Srivastava who was also a teacher. Ram Dulari Devi was a house wife. He was born with the name Lal Bahadur Srivastava. He earned the title Shastri due to  his academic excellence. He was commited to education during his entire life. He went on to become not only a leader but also an academic and an activist.
Lal Bahadur Shastri showed unwavering dedication to the Indian National Congress political party. He served as the second Prime Minister of India from 1964 until his death in 1966. His tenure as Prime Minister marked a significant progress and change in India.
He held many important positions which included Minister of External Affairs and Railways. His tenure had many notable achievements which included signing of the Tashkent Agreement. The Tashkent aimed to ease tensions between India and Pakistan.
This diplomatic respect earned him respect on the global arena. Lal Bahadur Shastri gave the slogan Jai Jawan Jai Kisan which means hail the soldier and hail the Farmer. The slogan means emphasizes on the vital contributions of farmers and soldiers to the country's prosperity.