Buddhist-Muslim clashes continue in Sri Lanka
Hard-line Buddhists have ties with their counterparts in Myanmar
Despite imposition of state of emergency in Sri Lanka, reports of violent mob attacks by Sinhalese Buddhists against Muslims in various parts of the country are pouring in. Ambetana in the central region witnessed hundreds of attackers shouting slogans and carrying sticks, stones and petrol bombs descending on the hill town. At least fifteen Muslim houses and a mosque were vandalized while several vehicles were set on fire.
According to Aljazeera correspondents in the region residents have said that some two dozen policemen and soldiers watched helplessly as the mob vandalised and set fire to Muslim homes and businesses in the town's Welekada area in the town.
Fatima Zameera clutching her three-week old infant recounted the violence that swept her neighborhood said, "We were so scared. We have nowhere to go. They broke all the windows in my house. Our whole house is burnt."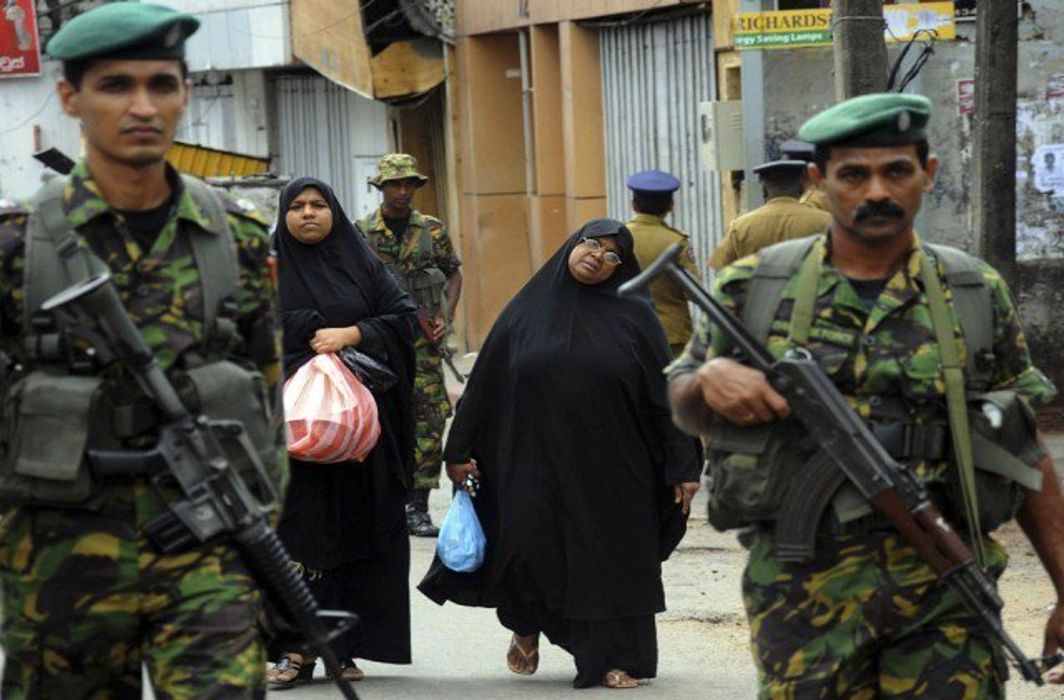 The mob between 200 and 500-strong, overran Welekada defying a curfew and a state of emergency imposed by President Maithiripala Sirisena to quell anti-Muslim riots that began in the highland district of Kandy last weekend.
According to Colombo based Daily News, Prime Minister Ranil Wickremesinghe, while delivering a special statement on the situation in Kandy on Wednesday, said that the Security Forces Chiefs and the Police have been instructed to take prompt action against acts of sabotage and be prepared to control any kind of unrest.
Wickremesinghe said that Security Forces Commander in the Central Province, Major General Rukman Dias has been appointed to coordinate security related activities between the Police and the Security Forces.
He further said that the Tri Forces, the Special Task Force have been deployed in the Kandy district in addition to the Police in order to ensure that the normal life of the community is maintained without any hindrance.
Prime Minister Wickremesinghe said several shops in the Katugastota area had been set on fire on Tuesday. He said that a hand grenade in the possession of a person who was among a group who had been acting violently had exploded. He said these incidents were being investigated by the Police. "In the other areas of the Kandy district, law and order and peace prevailed," the Premier claimed.
The Premier said that temporary restrictions have been imposed against the use of social media which is being used by some elements to instigate violence by spreading false stories in order to mislead the public and spread hatred.
Read More: Sri Lanka declares  emergency to prevent spread of communal clashes
Sensing the growing trouble ahead, Minister for Public Administration and management Ranjith Madduma Bandara was sworn in as the Minister of Law and Order before President Maithripala Sirisena at the Presidential Secretariat Thursday morning.
Meanwhile, another Colombo based newspaper-The Island reports that Former President Mahinda Rajapaksa has warned that some sinister forces, bent on destabilising the country, were trying to engineer another 1983 style conflagration to drum up international support for their constitutional reforms, aimed at dividing the country into several semi-independent states.
Former President said that the gravitation of a section of the Muslim population towards communal political parties had made it easy for the siniser forces to create tensions between the Sinhalese and Muslims by using agent provocateurs.
"I call on citizens belonging to all communities to reflect intelligently on what has been happening and to refrain from all acts of violence", he said.
Mahinda Rajpaksa was country's President from November 2005 to January 2015. He also held Premier's position from April 2004 to November 2005.
The communal violence began on Sunday when a man belonging to Buddhist Sinhalese majority died after being beaten by some Muslim men over a traffic accident in the town of Teledeniya in Kandy, known for tea plantations and Buddhist religious sites.
On Monday, hundreds of Sinhala Buddhists, mostly outsiders poured into Kandy and attacked and torched dozens of Muslim businesses, houses and mosques. Body of a 23-year-old Muslim man was found in a burned building, and the government, fearing more violence, imposed a state of emergency on Tuesday. It also deployed the army and extended a police curfew in the region.
However, violence continued overnight on Wednesday with "several incidents" in four towns, said Ruwan Gunasekara, a police spokesman. Three police officers were injured in Menikhinna. Later in the day, Ambatenna was attacked and a Sinhalese man was killed there after a hand grenade he was carrying exploded.
Shukry Cassim, whose four-bedroom house was vandalised in Welekada, said he was "petrified". "We don't feel safe. All our children are traumatized. We don't know where to go, or who to trust," the 27-year-old accountant told Al Jazeera, standing in front of  his burnt car in his garage.
He further said, "We don't know why this is happening. The mob is not from our area. We don't know them. But they couldn't have done this without the support of people from our area because they have targeted the Muslim houses, and excluded the non-Muslim houses."
Ties between Muslims and Buddhists in the Kandy have been historically harmonious, he said, adding: "We share food during religious festivals, we play together and buy goods from each other's shops."
Analysts say tensions flared up between the two communities because of the rise of Buddhist militant groups following the end of the country's three-decade war. One of these groups Bodu Bala Sena has links to Buddhist hard-line groups in Myanmar.
Bizarre: Man travels across 203 countries in 3,512 days without taking a single flight
Thor travelled via a total of 351 buses, 158 trains, 43 tuk-tuks, 37 container ships, 33 boats, 9 trucks, 3 sailboats, 2 cruise ships, 1 police car, 1 yacht, and a horse-drawn carriage.  He made particular to spend a minimum of 24 hours in each nation during his incredible journey.
Danish citizen Thor Pedersen has travelled to every country in the world. He got there by all means of travel possible — by foot, by car, by bus, by train, by boat, and a container ship. It took the 44-year-old man 10 years to finish this challenging task. Pedersen began his trip in October 2013, reports said.
He claimed to have travelled through every nation in the world without using a plane in 3,512 days, according to reports. Even though there are 195 countries on the United Nation's official list, Pedersen claims to have visited 203 countries since he included disputed territories.
Pedersen travelled on a total 351 buses, 158 trains, 43 tuk-tuks (autos), 37 container ships, 33 boats, 9 trucks, 3 sailboats, 2 cruise ships, a police car, a yacht, and a horse-drawn carriage. He made it particular to spend a minimum 24 hours in each country during his journey.
He also travelled to India in the latter half of 2018 and the beginning of 2019. After a remarkable 3,512-day journey, he arrived in the Maldives, his 203rd and last nation, via container ship. Pedersen is now among the 150 people in the world with the most travels thanks to this incredible accomplishment.
On his incredible journey, he said, it was challenging for him to plan for everything that would come his way because this had never been done before. He said he was proud that he never gave up throughout all of this. He was pleased that he was able to bring out the strength which was required.
Pedersen faced enormous challenges as a result of the COVID-19 pandemic, which left him stranded in Hong Kong for two years. He thought of giving up the project because of the virus's unknown characteristics and the growing danger. However, he received support from Le, his long-time girlfriend, during the break in his preparations. Interestingly, the pair chose to get married, and Le visited him 26 times during that period.
Thor Pedersen financed his trip with personal savings, business sponsorships, and crowdfunding with a daily expenditure of just $20 (around Rs 1500). Many people followed his incredible journey on social media along the way, joining him there.
He has been working nonstop to record his adventures, and he intends to make a feature-length documentary that highlights his journey. Pedersen will soon release a book, to enable his admirers to find out more about his adventures.
White House hails India's democracy, calls it vibrant ahead of Prime Minister Modi's US tour later this month
A National Security Council official at the White House, John Kirby, while addressing a press conference said the strength and health of democratic institutions will be part of the discussion with PM Modi during his visit to the state.
The White House on Monday said India is a vibrant democracy and anybody can witness that on visiting New Delhi dismissing concerns about the health of democracy in India as Prime Minister Narendra Modi is scheduled to visit the US later this month.
A National Security Council official at the White House, John Kirby, while addressing a press conference said the strength and health of democratic institutions will be part of the discussion with PM Modi during his visit to the state.
Kirby said the US hopes to have a deeper partnership with India which would strengthen their relations. He further added that India is a strong partner with the US on many levels.
Kirby said there would be additional Defence cooperation between the two nations. He also stated that the economic activities between the two countries were at an all-time high and India, as a Pacific Quad member, is a key partner to the Indo-Pacific security.
He further added America's relationship with India is multi-dimensional that took place at many levels. Kirby said US President Joe Biden is awaiting Prime Minister Modi's visit to discuss all the issues and deepen the bond of friendship and partnership between US-India.
Kirby's comments help in establishing the commitment of the Biden administration to work with the Modi–led government, which has reportedly come under criticism from some political quarters in the US and its media for the alleged depletion of India's democratic institutions.
Congress leader Rahul Gandhi, in his recent visit to the US, made remarks on press freedom, institutions, and democracy in India.
While the official visit is on June 22, PM Modi will lead the International Yoga Day celebrations on July 21 at the United Nations in New York. He is likely to meet political and business leaders during his visit. The leaders are expected to discuss China's actions in Asia and beyond, which are feared to be against their shared interests.
Indiana Ophthalmics: Gujarat based company supplies poor quality eye drops in Sri Lanka
On Thursday, Pharmaceutical Export Promotion Council (Phermexcil), India's Centre agency looking after the promotion of pharmaceutical exports from India has sent a notice to the Gujarat company asking an explanation and an internal investigation report on the quality of the Methylprednisolone eye drops.
A Gujarat based top pharmaceutical manufacturing firm Indiana Ophthalmics has been accused of supplying poor quality eye drops to Sri Lanka. The Sri Lankan government has complained to the Indian government stating that the eye drops supplied by the company has has caused eye infection to 30 people.
On Thursday, Pharmaceutical Export Promotion Council (Phermexcil), India's Centre agency looking after the promotion of pharmaceutical exports from India has sent a notice to the Gujarat company asking an explanation and an internal investigation report on the quality of the Methylprednisolone eye drops.
Phermexcil Director General Udaya Bhaskar in a letter to Indiana Ophthalmics has stated that the alleged supply of the contaminated eye-drops by the company has dented the reputation of the Indian pharma industry and will have to face trust issues by the international agencies on the export of pharmaceuticals from the country.
A probe has also been started by the Central Drugs Standard Control Organisation on Thursday, to investigate into the questions of quality concerns being raised on the eye drops being manufactured by Indiana Ophthalmics. The drops were recalled by Sri Lanka's Ministry of Health in April this year saying the patients had reported complications after using them.
The Sri Lankan government claimed to have found bacteria Burkholderia cepacia in the eye drop. The Lankan government has asked the Indian government to compensate the affected patients and has demanded to investigate into the matter. Reports claimed, the firm has been told to stop production of eye drops immediately.
As per reports, the state drug officials had tested the drops and are waiting for results. Reports also said, these drugs require sterility testing hence, the test results will take another 15 days. Once the test results are out, they will be sent to the Sri Lankan government immediately.

A similar case was reported in February 2023, when questions were raised against Tamil Nadu based Global Pharma Healthcare, a firm whose product was allegedly linked with contamination causing blindness and one death in the US.