Kangana Ranaut once again supports Nupur Sharma in Prophet row
BJP spokesperson Nupur Sharma has been making the headlines for the past few days over her controversial remarks on Prophet Mohammad. Her remarks created a stir in the country and she was also suspended from the party. People are raising slogans against Nupur Sharma across the nation. Meanwhile, actor Kangana Ranaut, who is known for sharing her views openly and fearlessly, has backed the politician.
Taking to Instagram Stories, Kangana shared a screenshot of the dialogue between Imtiaz Jalil and Owaisi, who were debating on Nupur Sharma's comment, and wrote, many of my Muslim friends drink and smoke, have premarital sex, don't wear burkha, use swear words, eat pork and because of work situations at the time, don't even follow halal guidelines. Its fine beauty of India is freedom, otherwise, not just Nupur but everyone will become criminals, she added.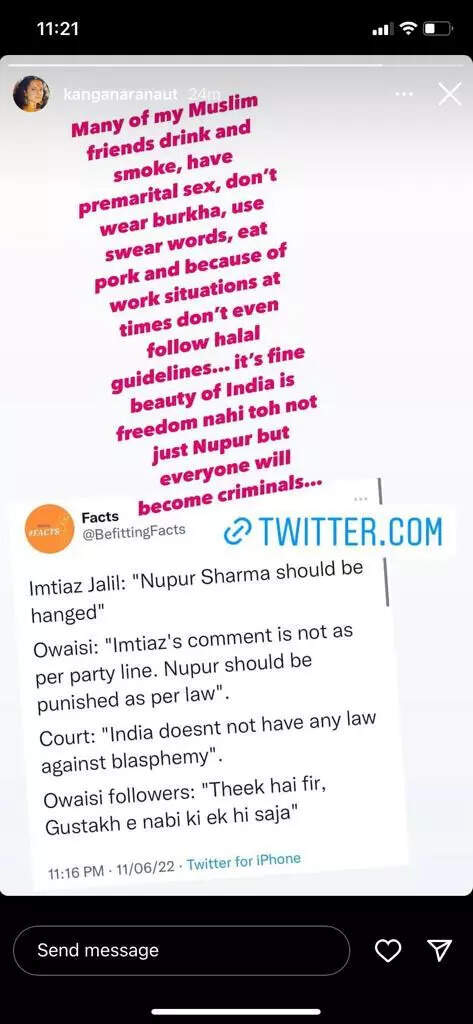 Earlier too, Kangana supported Nupur over her remarks. She posted a still from the film PK on her Instagram and wrote just because a woman out of rage quoted Hadith toh poore desh ko sar pe utha liya hai, what kind of people do this. Such alarming behavior, she added.
Kangana had previously shared a photo of an effigy being hung in the middle of the street, to which she wrote, this horrifying image is not from Afghanistan it is India, peaceful people are hanging effigies of Nupur.  Kangana also criticized a member of parliament for calling Nupur to be hanged for quoting the Hadith.
Meet Sahejmeen Kaur who starred with Akshay Kumar in Raksha Bandhan
Work attracts work, was one of the best advices Akshay gave to Sahejmeen Kaur during the shooting of Rakshabandhan.
Bollywood actor who made her debut at the age of 24 with Akshay Kumar and Bhumi Pednekar was in conversation with APN News and she spoke about her struggles to her experience and tricks to deal with social media trolling.
Sahej started off by saying that she feels immensely grateful to have worked in Rakshabandhan. She recalled her first meet with Anand L Rai and said that he very gracefully welcomed everyone and said that he was looking forward to work with the star cast of Rakshabandhan.
Sahej revealed that she highly regard Akshay Kumar and he is also the best person to give advices. Work attracts work, was one of the best advices Akshay gave to Sahejmeen Kaur. She also said that there's a lot to learn from Akshay. But it was Bhumi who gave her the best complement after the release of Rakshabandhan.
You can watch the full interview here:
Sahej said that after movie was released Bhumi gave a call to her and said that she's very watchable. The 24 years old intends to keep that trend going. On asked about how Sahej dealt with all the negativity around her debut movie, she said that people around the age group from 40-60 as well as the youngsters appreciated her and that means a lot to her.
She also believes that story should be good enough to be told and Rakshabandhan was one such case. Sahej also believes that hard work is the key to success and it also doesn't matter if you're an outsider of insider.
Lastly, she also ended up telling that she really looks up to Shah Rukh Khan and really want to work with him. The Rakshabandhan actor also expressed her excitement over King Khan making a debut after 5 long year with YRF's Pathaan. She all said that from SRK's filmography, Kal Ho Na Ho and My Name Is Khan is her most favorite movies.
Vikram Vedha Bande song: Hrithik Roshan-Saif Ali Khan's action-packed theme song leaves fan intrigued
The song video does the trick of projecting the stress between Vikram and Vedha by showing their fighting sequence in the video which leads up to their face-off in the end.
The team of Vikram Vedha on Monday, released Bande, the theme song of the film with the video. The two and a half minutes long song video has an action-packed sequence of Hrithik Roshan and Saif Ali Khan set in its backdrop, whereas, the song is sung in a husky and crass voice which compliments every action sequence unfolding as the video proceeds further.
In the video, Hrithik Roshan and Saif Ali Khan can be seen amid their action sequence where Hrithik is swinging his sword at a man after jumping off a building. Whereas, Saif Ali Khan can be seen shooting round after round from his pistol at different people. The song video does the trick of projecting the stress between Vikram and Vedha by showing their individual fighting sequence in the video which leads up to their face-off in the end. By the end of the video, fans can see the anticipated fight between the actors, Hrithik Roshan and Saif Ali Khan.
Read Also: Navratri 2022: Railways to serve special vrat thalis on trains; know how to book thali, menu
The song is sung by Sivam, and the music for the adrenaline-rush-triggering song is given by Sam C S. Along with the husky and crass voice, the lyrics help the video become a memorable song as the lyricism is done by Manoj Muntashir.
Many users in the comment section of the video flooded it with admiration and love for both the actors as one user wrote that Hrithik Roshan is not just acting like Vedha, he is Vedha, implying how perfectly the actor has embodied the mannerism of the character that it looks very convincing.
Another user added to the conversation by remarking how the song is an incredible one while adding that their goosebumps were overloaded, implying how listening to the song can make anyone get goosebumps.
Vikram Vedha is a Hindi remake of a Tamil film that had the same name and directors, the film is helmed by Pushkar and Gayatri. The film stars Hrithik Roshan alongside Saif Ali Khan and follows the journey of a Gangster and a police officer. The film also stars Rohit Saraf, Radhika Apte, and Yogita in supporting roles. The much anticipated action-packed film is slated to hit the theaters on 30th September.
Throw 19th over first: Village drunk man gives hilarious solution for India's chronic loss in second last over
Thieves steal Lord Shiva's serpent and Jaldhari from Madhya Pradesh temple, caught on CCTV
Ram Setu teaser: Akshay Kumar will fight all the odds to save Adam's bridge | WATCH
Ram Setu will mark Akshay Kumar's fifth film of 2022 and will hit the silver screen on October 25 in Diwali.
Akshay Kumar dropped the teaser of his most-awaited film Ram Setu on Monday after teasing his fans for more than a month. The action-packed film also stars Nushrratt Bharuccha, Jacqueline Fernandez, Satyadev Kancharana, and Raaj Vishwakarma in titular roles.
Ram Setu will mark Akshay Kumar's fifth film of 2022 and will hit the silver screen on October 25 in Diwali.
Ram Setu teaser
The first teaser of Ram Setu sees Akshay Kumar fighting all the odds to save the national treasure Ram Setu also known as Adam's bridge. The actor, along with Jacquline Fernandez and Satyadev Kancharana can be seen facing cannon guns, diving deep into the sea, and jumping off the buildings for Ram Setu.
The teaser looks action-packed and a fun adventurous ride.
Read Also: Lucknow man feeds pani puri to cow and it's calf, video goes viral | Watch
Watch Ram Setu's teaser here:
Soon after the teaser was released, fans took to social media and reacted to it leading to the trend #RamSetu on Twitter. Going by the reactions, fans have loved the teaser and are rooting for the action film.
One user applauded Akshay Kumar and his looks in the film. Another user claimed the film to be a blockbuster.
Have a look at Twitter reactions here:
Helmed by Abhishek Sharma, Ram Setu has been filmed near Ooty, Daman and Diu, and Mumbai. The film revolves around an archaeologist investigating the Adam's Bridge and finding the truth.
The film is bankrolled by Abundantia Entertainment, Cape of Good Films, Amazon Prime Video, and Lyca Productions.
Ram Setu fell into controversy after former Rajya Sabha MP Dr Subramanian Swamy sent legal notice to Akshay Kumar and other actors and the makers of the film to prevent any falsification as well as wrong picturisation of facts and circumstances transpired in the past.
Later, the Supreme Court asked the Centre to clarify it's stand on the plea filed by Subramanian Swamy
Jacqueline Fernandez gets interim bail in connection with Rs 200 crore extortion case
Andhra Pradesh: Police refuse to register rape case, mother ends life along with minor daughter