10-minute delivery service is safe for delivery partners as 30-minute delivery, know why Zomato founder Deepinder Goyal said this
"There are no fines for late deliveries. For both 10- and 30-minute deliveries, there are no incentives for on-time delivery, on a Twitter thread, Mr. Goyal stated. He went on to say, "We're creating additional food stations to provide 10-minute service for certain customer locations only."
Deepinder Goyal, the founder of Zomato, has announced the details for the latest 10-minute meals delivery service of the food-ordering app, a day after the decision was denounced by a few people in which they said that it is an open door for the company to force delivery partners into such a difficult and risky job role.
The 10-minute home delivery system, according to Mr. Goyal will be for selective close places and only for demanding, and standard items only.
This morning, on March 22, 2022, Mr. Goyal tweeted "Hello, Twitter, and welcome to the day. I just want to explain how 10-minute delivery works and how it is just as safe for our delivery partners as 30-minute delivery. Please go through this (before the indignation) for 2 minutes this time,".
Read Also: Zomato's 10 minutes food delivery announcement invites hilarious memes, check here
Zomato delivery partners, he claims, are unaware of the claimed arrival time for both 10 and 30 minutes deliveries.
"There are no fines for late deliveries. For both 10- and 30-minute deliveries, there are no incentives for on-time delivery, on a Twitter thread, Mr. Goyal stated. He went on to say, "We're creating additional food stations to provide 10-minute service for certain customer locations only."
On March 21, 2022, many people on social media criticized the 10-minute meal service as impractical and perhaps risky for food delivery partners. Several people have raised worry that Zomato's 10-minute delivery guarantee will make delivery partners' jobs more difficult. Cyber security expert Jiten Jain is one of them.
"As a consumer, ten minutes sounds incredible. However, this will certainly make your delivery crew nervous and erratic. I'm confident that waiting 30 minutes for wonderful meals to arrive at our door is worthwhile "Mr. Jain wrote on Twitter.
In response to the backlash, Mr. Goyal stated in a tweet today that 10-minute delivery will result in less time on the road per order. Mr. Goyal said, "We continue to educate our delivery partners on road safety and also provide accidental and life insurance."
"Yes, we will also give you Maggi through our 10-minute food stations," he continued, referring to memes that linked Zomato's superfast service to Maggi's brand identity of "2-Minute Noodles."
2 years of Janata curfew to fight Covid-19, Tweeple share hillarious memes
Ruchi Soya FPO: What is follow-on public offer? Check price band, steps to invest and other details
AAP Rajya Sabha MP Sanjay Singh arrested in connection with money laundering case linked to Delhi liquor policy
The Enforcement Directorate has mentioned Sanjay Singh's name in its charge sheet. According to the investigating agency Dinesh Arora a middle man said he had met Singh during a party in his restaurant. The name of the restaurant is Unplugged Courtyard.
The Enforcement Directorate on Wednesday arrested Aam Aadmi Party Rajya Sabha MP Sanjay Singh after searches were conducted at his residence in connection with the Delhi liquor policy case. The central investigating agency questioned Sanjay Singh for 10 hours before arresting him.
Houses of several people close to the AAP MP were also searched. The Enforcement Directorate had named Sanjay Singh in its charge-sheet. According to the investigating agency, Dinesh Arora, a middle-man, said he had met Singh during a party in his restaurant, Unplugged Courtyard.
Before leaving his home with the ED officers, Sanjay Singh touched his mother's feet to take her blessings. Sanjay Singh's father said they would cooperate fully with ED officials. He added he told his son Sanjay not to worry. He said the future was positive for them as the government will change soon.
AAP convener and Delhi Chief Minister Arvind Kejriwal said the move showed BJP's desperate measures as it stares at defeat in the 2024 Lok Sabha elections. Delhi Education Minister Atishi tweeted the BJP's fear of losing to the INDIA alliance is clearly visible. She said Sanjay Singh worked for the people of Delhi and wondered why they don't open an ED office in the AAP headquarters itself. Atishi added the BJP is surviving by making false allegations against AAP.
The Enforcement Directorate had arrested then Delhi Deputy Chief Minister and AAP leader Manish Sisodia in connection with the Delhi liquor policy case. Large number of comments from different political leaders of different parties started coming immediately.  BJP MP Manoj Tiwari said the way the AAP leaders used to write letters it seemed there was no one as honest as them.  Tiwari added the AAP leader's co-accused have turned approvers. He said the flame will not end with Sanjay Singh, Manish Sisodia and Satyendar Jain but will reach Arvind Kejriwal as well.
Ranbir Kapoor summoned by ED in online betting app case, interrogation on October 6
For their involvement in the Mahadev online betting case, a number of Bollywood actors and singers have been under investigation by the probe agency.
In connection with a case involving online betting, the Enforcement Directorate has summoned Bollywood star Ranbir Kapoor. The ED has asked the actor to appear on October 6 for interrogation.
Kapoor has reportedly received money for performing promotional tasks for the app while serving as a social media influencer for the online betting company.
In connection with the ongoing investigation into the Mahadev online betting case, the investigating agency is likely to request statements from additional prominent Bollywood actors and singers. Last month several actors, singers and comedians attended the wedding and the success party of Sourabh Chandrakar, the promoter of the Mahadev Book app, in the UAE in February of this year
These included Tiger Shroff, Sunny Leone, Neha Kakkar, Atif Aslam, Rahat Fateh Ali Khan, Ali Asgar, Vishal Dadlani, Elli AvrRam, Bharti Singh, Bhagyashree, Kriti Kharbanda, Nushrratt Bharuccha, Krushna Abhishek and Sukhwinder Singh..
In reference to the alleged money laundering networks linked with the Mahadev Online Book App, a betting platform with its headquarters in the UAE, the central investigative agency conducted searches in a number of locations, including Kolkata, Bhopal, and Mumbai.
The platform is reportedly being used in large-scale hawal operations to divert gambling winnings to offshore accounts, according to the complaint.
According to sources, the platform's promoter allegedly spent Rs 200 crore rupees on the wedding, and the agency is attempting to follow the money to identify the eventual beneficiaries.
Celebrities who participated in the wedding received payments handsomely through questionable dubious trades, according to the reports. The promoters of the betting site reportedly paid the celebrities Rs 40 crore to attend a party at a seven-star luxury hotel in Dubai on September 18 of this year.
The sources claimed that celebrities were hired to perform at the wedding, private jets were booked to transport the bride's family from Nagpur to the UAE. Mumbai's wedding planners, dancers, and decorators were also hired, and hawala channels were used to process the payments.
PM Modi to launch development projects worth Rs 12,600 crore in Madhya Pradesh, Rs 5000 crore in Rajasthan
The Prime Minister Office said PM Modi will lay the foundation stone and inaugurate several development projects in sectors like higher education, health, aviation, rail and road.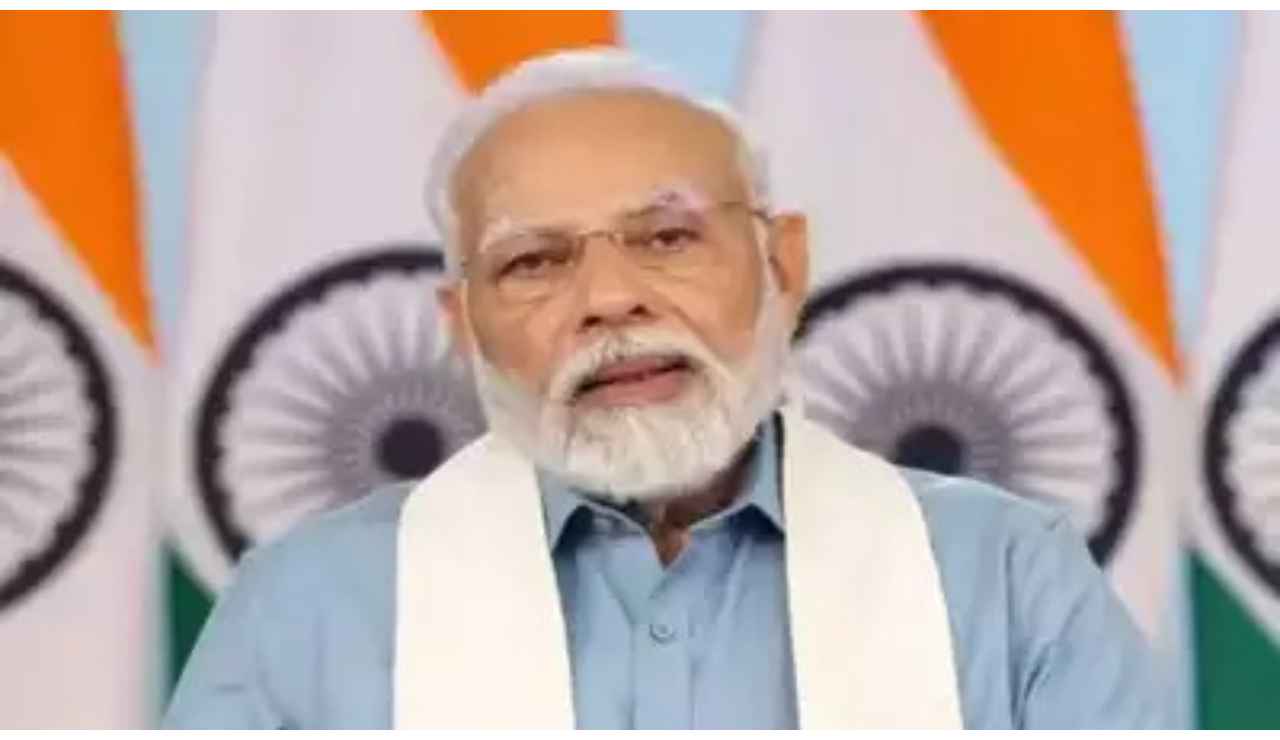 Prime Minister Narendra Modi is set to launch development projects worth Rs 5000 crore in Rajasthan and Rs 12,600 crore in Madhya Pradesh during his visit to the two states. The Prime Minister Office said PM Modi will lay the foundation stone and inaugurate several development projects in sectors like higher education, health, aviation, rail and road.
In Jabalpur Madhya Pradesh he will launch several development projects in sectors such as clean drinking water, housing, gas pipeline, rail, road etc. The heath projects for which PM Modi laid the foundation stone in Rajasthan include a critical care hospital block, a 350 bedded trauma centre at the All India Institute of Medical Sciences, Jodhpur. The health projects also include seven critical care blocks under the Pradhan Mantri Ayushman Bharat Health Infrastructure Mission.
The centre at AIIMS will be developed at a cost of more than Rs 350 crore. The trauma centre will have holistic approach in management emergency and trauma cases by providing comprehensive and multidisciplinary care to patients while critical care blocks across Rajasthan will provide district care infrastructure.
PM Modi will also lay the foundation stone for the development of state of art new terminal building at the Jodhpur airport which costs Rs 480 crore. He had planned to dedicate the IIT Jodhpur campus to the country. According to the statement the campus has been built at a cost of more than Rs 1135 crore. It is an initiative to provide high quality holistic education and building infrastructure for supporting innovation and cutting edge research initiatives.
Other projects which will be launched by PM Modi include multiple road development projects which will be built at a cost of Rs 1475 crore. He will also flag off two new train services. According to the Prime minister's office PM Modi will inaugurate a light house project at Indore, Madhya Pradesh.