Rousing Welcome To Israeli PM Netanyahu in Gujarat, Praises Modi As Revolutionary
[vc_row][vc_column][vc_column_text]Prime Minister Narendra Modi and his Israeli counterpart Benjamin Netanyahu, who arrived in Ahmedabad on Wednesday, held an eight-kilometer-long roadshow which ended at the Sabarmati Ashram, also known as Gandhi Ashram, where Mahatma Gandhi lived for over a decade.
The Israeli Prime Minister Benjamin Netanyahu and his wife Sara were received at the airport by Narendra Modi. Security was tightened along the route from the Ahmedabad airport to Sabarmati Ashram. They were greeted with song and dance at the airport.
Around 50 stages were set up along the route that Modi and Netanyahu took to Sabarmati Ashram. The stages on the roadshow depicted Gujarat's cultural and heritage values by various artistes. There were artistes from 22 States showcasing their traditional art and dances.
Pleased with the rousing welcome at his arrival, Netanyahu thanked the people: "Thank you to the thousands of Indians who welcomed us to Ahmedabad today with Israeli flags and tremendous support!"[/vc_column_text][vc_raw_html]JTNDYmxvY2txdW90ZSUyMGNsYXNzJTNEJTIydHdpdHRlci10d2VldCUyMiUyMGRhdGEtbGFuZyUzRCUyMmVuJTIyJTNFJTNDcCUyMGxhbmclM0QlMjJlbiUyMiUyMGRpciUzRCUyMmx0ciUyMiUzRVRoYW5rJTIweW91JTIwdG8lMjB0aGUlMjB0aG91c2FuZHMlMjBvZiUyMEluZGlhbnMlMjB3aG8lMjB3ZWxjb21lZCUyMHVzJTIwdG8lMjBBaG1lZGFiYWQlMjB0b2RheSUyMHdpdGglMjBJc3JhZWxpJTIwZmxhZ3MlMjBhbmQlMjB0cmVtZW5kb3VzJTIwc3VwcG9ydCUyMSUyMCUzQ2ElMjBocmVmJTNEJTIyaHR0cHMlM0ElMkYlMkZ0LmNvJTJGOFBBclZycFVQbyUyMiUzRXBpYy50d2l0dGVyLmNvbSUyRjhQQXJWcnBVUG8lM0MlMkZhJTNFJTNDJTJGcCUzRSUyNm1kYXNoJTNCJTIwQmVuamFtaW4lMjBOZXRhbnlhaHUlMjAlMjglNDBuZXRhbnlhaHUlMjklMjAlM0NhJTIwaHJlZiUzRCUyMmh0dHBzJTNBJTJGJTJGdHdpdHRlci5jb20lMkZuZXRhbnlhaHUlMkZzdGF0dXMlMkY5NTM1NzU0MzQzODk3NzAyNDAlM0ZyZWZfc3JjJTNEdHdzcmMlMjU1RXRmdyUyMiUzRUphbnVhcnklMjAxNyUyQyUyMDIwMTglM0MlMkZhJTNFJTNDJTJGYmxvY2txdW90ZSUzRSUwQSUzQ3NjcmlwdCUyMGFzeW5jJTIwc3JjJTNEJTIyaHR0cHMlM0ElMkYlMkZwbGF0Zm9ybS50d2l0dGVyLmNvbSUyRndpZGdldHMuanMlMjIlMjBjaGFyc2V0JTNEJTIydXRmLTglMjIlM0UlM0MlMkZzY3JpcHQlM0UlMEE=[/vc_raw_html][vc_column_text]The Israeli PM and his wife spent around 20 minutes in the Sabarmati ashram premises, where they visited 'Hriday Kunj', the home of Mahatma Gandhi.
Netanyahu and his wife described Mahatma Gandhi as one of the great prophets of humanity. In a four-line message jointly signed by him and his wife Sara in the visitors' book at the ashram, the dignitaries said their "visit was inspiring."
"An inspiring visit to the hearth of one of humanity's great prophets of inspiration — Mahatma Gandhi," they wrote.
They tried their hands at the 'charkha', the hand-spinning wheel that was emblematic of India's quest for self-reliance during the freedom struggle.[/vc_column_text][vc_raw_html]JTNDYmxvY2txdW90ZSUyMGNsYXNzJTNEJTIydHdpdHRlci10d2VldCUyMiUyMGRhdGEtbGFuZyUzRCUyMmVuJTIyJTNFJTNDcCUyMGxhbmclM0QlMjJldCUyMiUyMGRpciUzRCUyMmx0ciUyMiUzRUFobWVkYWJhZCUzQSUyMFBNJTIwTW9kaSUyMGFuZCUyMElzcmFlbCUyMFBNJTIwTmV0YW55YWh1JTIwYW5kJTIwaGlzJTIwd2lmZSUyMFNhcmElMjBOZXRhbnlhaHUlMjBhdCUyMFNhYmFybWF0aSUyMEFzaHJhbSUyMCUzQ2ElMjBocmVmJTNEJTIyaHR0cHMlM0ElMkYlMkZ0d2l0dGVyLmNvbSUyRmhhc2h0YWclMkZOZXRhbnlhaHVJbkluZGlhJTNGc3JjJTNEaGFzaCUyNmFtcCUzQnJlZl9zcmMlM0R0d3NyYyUyNTVFdGZ3JTIyJTNFJTIzTmV0YW55YWh1SW5JbmRpYSUzQyUyRmElM0UlMjAlM0NhJTIwaHJlZiUzRCUyMmh0dHBzJTNBJTJGJTJGdC5jbyUyRldCZkp6aFFNeXYlMjIlM0VwaWMudHdpdHRlci5jb20lMkZXQmZKemhRTXl2JTNDJTJGYSUzRSUzQyUyRnAlM0UlMjZtZGFzaCUzQiUyMEFOSSUyMCUyOCU0MEFOSSUyOSUyMCUzQ2ElMjBocmVmJTNEJTIyaHR0cHMlM0ElMkYlMkZ0d2l0dGVyLmNvbSUyRkFOSSUyRnN0YXR1cyUyRjk1MzUxNDUxOTk3OTk5OTIzMiUzRnJlZl9zcmMlM0R0d3NyYyUyNTVFdGZ3JTIyJTNFSmFudWFyeSUyMDE3JTJDJTIwMjAxOCUzQyUyRmElM0UlM0MlMkZibG9ja3F1b3RlJTNFJTBBJTNDc2NyaXB0JTIwYXN5bmMlMjBzcmMlM0QlMjJodHRwcyUzQSUyRiUyRnBsYXRmb3JtLnR3aXR0ZXIuY29tJTJGd2lkZ2V0cy5qcyUyMiUyMGNoYXJzZXQlM0QlMjJ1dGYtOCUyMiUzRSUzQyUyRnNjcmlwdCUzRSUwQQ==[/vc_raw_html][vc_column_text]The Indian PM and his Israeli counterpart also flew kites for a couple of minutes, as their visit comes just a few days after 'Uttarayana' (or Makar Sankranti), Gujarat's popular kite festival.
Later, PM Modi and Netanyahu inaugurated a start-up hub called iCreate in Gujarat's Bavla town. iCreate or the International Centre for Entrepreneurship and Technology, formed in 2011 as an autonomous institution to nurture aspiring entrepreneurs, has tie-ups with leading Israeli firms.
Modi said: "When I went to Israel last year, I made up my mind that this foundation should have more strong relations with Israel. From that time, I was waiting for my friend Benjamin Netanyahu to come to India. He is here & now we are inaugurating this foundation.
"When a farmer sows a small plant, coming generations receives fruits of that huge tree. The farmer's soul feels elated with this. We are feeling the same happiness on the inauguration of iCreate.
"My motive was that this institution and our youth is benefited by Israel's experience and their start-up environment. Israel has proved it to the world that commitment of the people, not size of the nation takes the country forward."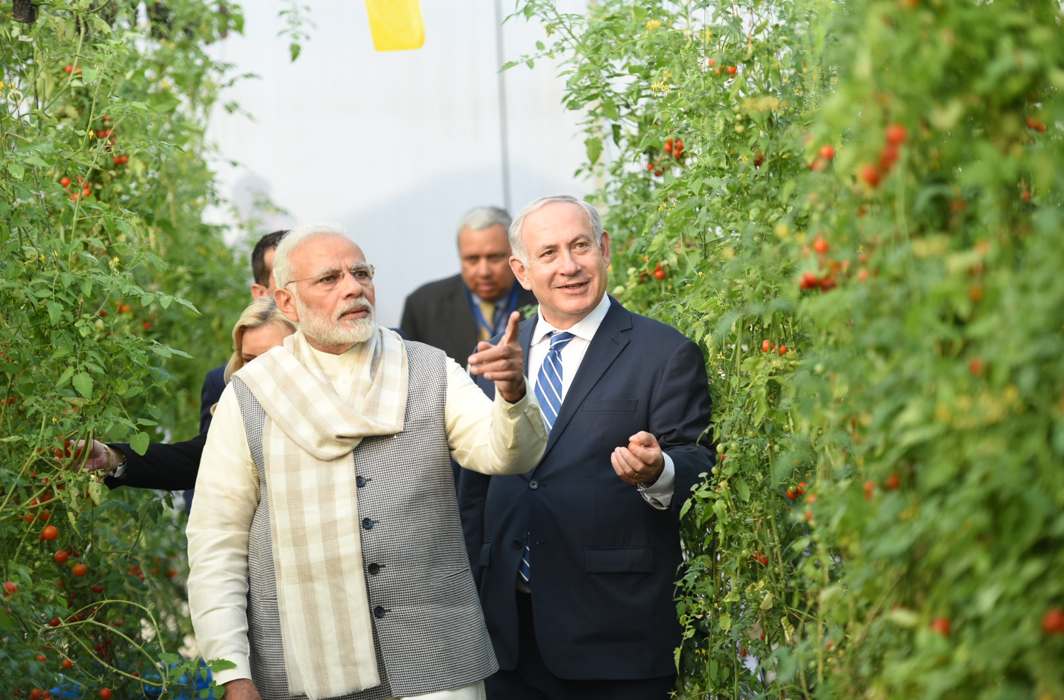 The prime minister said he hoped that iCreate would help youngsters fulfil their dreams and implement their innovative ideas, said media reports. "We are working towards making entire system in our country innovation-friendly, so that ideas are formed from intent, innovations are formed from ideas and a new India is formed from innovations," said media reports quoting Modi.
Quoting the former President of Israel, Shimon Peres, Modi said innovation had the bigger role in taking people of India and Israel together. "The greater the dream, the more spectacular will be the results," he said.
Netyanahu praised Modi for doing revolutionary work, and recalled the historic links between the two countries, the Hindustan Times reported. Many Indian soldiers who lost their lives during the liberation of the Israeli city of Haifa were Gujaratis, the Israeli prime minister said.
The youth and technology of the two countries are the future, and the two are coming together and opening new ways, Netanyahu added, before concluding his speech by saying: "Jai Hind! Jai Bharat! Jai Israel!"
The prime ministers then visited the Centre of Excellence for Vegetables at Vadrad in Sabarkantha district where they spoke with farmers. "We are all aware of the strides Israel has made in agriculture, including when it comes to managing water resources and irrigation," Modi said. "Israel shows the way on how to transform a nation with the agriculture sector at the core."
Prime Minister Narendra Modi said that the government was attempting to help farmers double their incomes by 2022, and thanked Netanyahu for taking time out to talk to farmers.
The two leaders and Sara Netanyahu returned to Mumbai in the evening.
On Thursday, the Israeli prime minister will launch a magazine at the Magen David Synagogue at Byculla in South Mumbai, PTI reported. The magazine, called Namaste Shalom, will focus on the relations between the two countries and will be published every month.
Netanyahu and his wife are on a six-day trip to India. Netanyahu's visit to Gujarat will focus on agriculture, irrigation, innovation and enterprise, the Indian Prime Minister's Officer said on Twitter.[/vc_column_text][/vc_column][/vc_row]
Video of boys donning sarees, skirts, towels on College's 'mismatched days' in Maharashtra goes viral, users laud their confidence | WATCH
Some students can be seen wearing skirts, towels, sundresses, dhoti, and frocks as they walk with confidence and pose for the camera. The video also shows the guard making a video of the whole scenario as he cracks a smile.
A video has come to light from Maharashtra's Ulhasnagar Smt. CHM College where the boys won the hearts and praise of many for confidently walking into the college premises while wearing women's clothes on mismatched day. The video was shared by one of the students and went viral after it surfaced.
In the video, male students can be seen entering the college premises while wearing a variety of clothing which are of the opposite gender. The students can be seen entering the college hand in hand with their peers.
Some students can be seen wearing skirts, towels, sundresses, dhoti, and frocks as they walk with confidence and pose for the camera. The video also shows the guard making a video of the whole scenario as he cracks a smile. Toward the end of the video, two students can also be seen posing for the camera as they make hearts by joining their hands.
Watch video here:
Of late, fashion trends have allowed many to explore and push the limits of their fashion. Many also dismiss the binary and wear clothes of whatever gender.
Users reaction
After the video of the incident went viral, many users came forward to add their take on the incident as one user wrote that they love how open-minded the country is becoming. One user wrote how confident the male students look in a skirt.
One user wrote and highlighted how happy the security guard looked watching this new phenomenon which they don't witness in their usual days.
One user wrote and lamented why their college doesn't practice similar days such as mismatched days, implying that the male students look like they are having fun.
One user wrote and praised the students who came towards the end of the video and made a heart, implying how wonderful and confident they looked wearing whatever they wished to wear.
Videos show Amritpal Singh's private militia Anandpur Khalsa Force in weapons training, target practice | WATCH
As the hunt for fugitive Khalistani leader Amritpal Singh continued for the seventh day today, videos of the 'Waris Punjab De' chief private militia christened 'Anandpur Khalsa Force' or AKF, have emerged on social media platforms.
Visuals doing the rounds on social media show the members of notorious Khalistan sympathizers private army donning body armor emblazoned with the AKF logo, undergoing weapons training in a forested area, which is reportedly a make-shift shooting range constructed in Amritpal Singh's native village of Jallupur Khera.
Watch the videos here:
According to the Punjab Police, Amritpal's former gunman, Tejinder Singh Gill alias Gorkha Baba, revealed during questioning that the 'Waris Punjab De' supremo ran a highly organized network to train recruits in his protection force, with extensive weapons training and target practice.
Tejinder told the police that Amritpal Singh had formed a private militia called the Anandpur Khalsa Force or AKF who underwent extensive arms training at a makeshift shooting range in the Jallupur Khera village.
Singh's former bodyguard told the cops that AKF recruits underwent rigorous arms training and target practice and were accorded ranked as per their seniority.
Meanwhile, reports today claimed that the fugitive Khalistani may be headed for Delhi, a day after his last known location was traced to Haryana.
An NDTV report quoting sources said the security has been heightened across the national capital as its suspected that the notorious 'Waris Punjab De' chief may be headed to Delhi after last being spotted in Shahabad in Haryana's Kurukshetra.
On Sunday, Amritpal Singh and his associate Papalpreet Singh, had stayed at Shahabad home of a woman identified as Baljeet Kaur, who was arrested yesterday, Punjab Police said.
A video with a time stamp of Monday, doing the rounds on the internet yesterday showed the fugitive Sikh preacher dressed in a white shirt and blue jeans, trying to hide his face with an umbrella as he was departing from the Baljeet Kaur's house in Shahabad.
On Thursday, the Punjab Police arrested Amritpal Singh's former gunman and notorious associate, Tejinder Singh aka Gorkha Baba.
A report quoted DSP Payal Harsimrat Singh of the Punjab Police as saying that Tejinder Singh, a resident of Punjab's Mangewal village, was nabbed by the Khanna police.
A nation-wide crackdown was launched to nab Amritpal Singh after the dreaded Khalistani leader and his supporters armed with swords and guns, stormed a police station in Ajnala on the outskirts of Amritsar city last month and clashed with police for the release of one of his aides Lovepreet Singh.
Salman Khan death threat email linked to UK number, cops say
The email ID through which a death threat was sent to Bollywood actor Salman Khan is linked to a UK-based mobile number, the Mumbai Police has said.
According to reports quoting sources in the Mumbai Police, the email ID from which the threat was made revealed that it was linked to a mobile number in the UK and efforts are underway to trace the person under whose name the number was registered.
Mumbai Police probing the threat e-mail case received by actor Salman Khan have found a British link.
Last week, gangsters Lawrence Bishnoi, Goldie Brar and Rohit Garg were booked under sections 506(2),120(b) and 34 of the Indian Penal Code (IPC) in a case registered at the Bandra Police Station for allegedly sending threatening emails superstar Salman Khan's office.
Salman Khan is currently under a Y+ category security cover provided by the Mumbai Police; a step taken by the Maharashtra government after the superstar had received a similar death threat from Lawrence Bishnoi gang earlier.
A death threat letter was sent to Salman and his father Salim Khan last year, which was discovered by the Khans' security team near the Bandra Bandstand promenade outside the actor's Mumbai home where Salim goes for his routine morning run.
In October last year, the Delhi Police revealed that in the purported plan to assassinate Salman Khan, the member of the Lawrence Bishnoi gang tried to befriend the staff of the actor's farmhouse in Mumbai in a bid to ascertain the details about the timings of his entry and exit.
Earlier this week, security was tightened outside Salman Khan's Galaxy Apartments after he received a death threat via an email from the Lawrence Bishnoi gang.
The email, reportedly sent by Rohit Garg, mentioned that Lawrence Bishnoi wants to meet Salman Khan in person. Bishnoi wants Salman Khan to apologize in public for killing blackbuck in 1998.
The e-mail stated Salman Khan must have seen the interview given recently to a news channel by Lawrence Bishnoi, and if not, he should see it. It further said if Khan wants to close the matter, he should talk face-to-face with Goldy bhai (Goldy Brar), adding there is still time but "agli bar, jhatka dekhne ko milega (next time you'll have to face the music)."
Lawrence Bishnoi warned the actor that he would crush his ego sooner or later if he doesn't apologize.
Lawrence Bishnoi is currently behind bars after was he arrested by the National Investigation Agency (NIA) on November 23 last year for allegedly hatching a conspiracy to recruit youth for carrying out terror attacks in Delhi and other parts of the country.
The notorious gangster is also suspected to be behind last year's brutal gangster-style murder of popular Punjabi singer-rapper Sidhu Moosewala. Bishnoi is the prime suspect in Moosewala's killing.
In a recent controversy, a Punjab-based news channel allegedly aired a live interview of Bishnoi from inside the Bathinda jail, however, the Punjab Prisons administration denied reports that the program was shot inside any prison in the AAP-ruled state.