DCW chief Swati Maliwal writes to Anurag Thakur seeking MeToo accused Sajid Khan's removal from Bigg Boss 16
Maliwal asked Anurag Thakur to step in and take the necessary measures to prevent Sajid Khan from taking part in the show.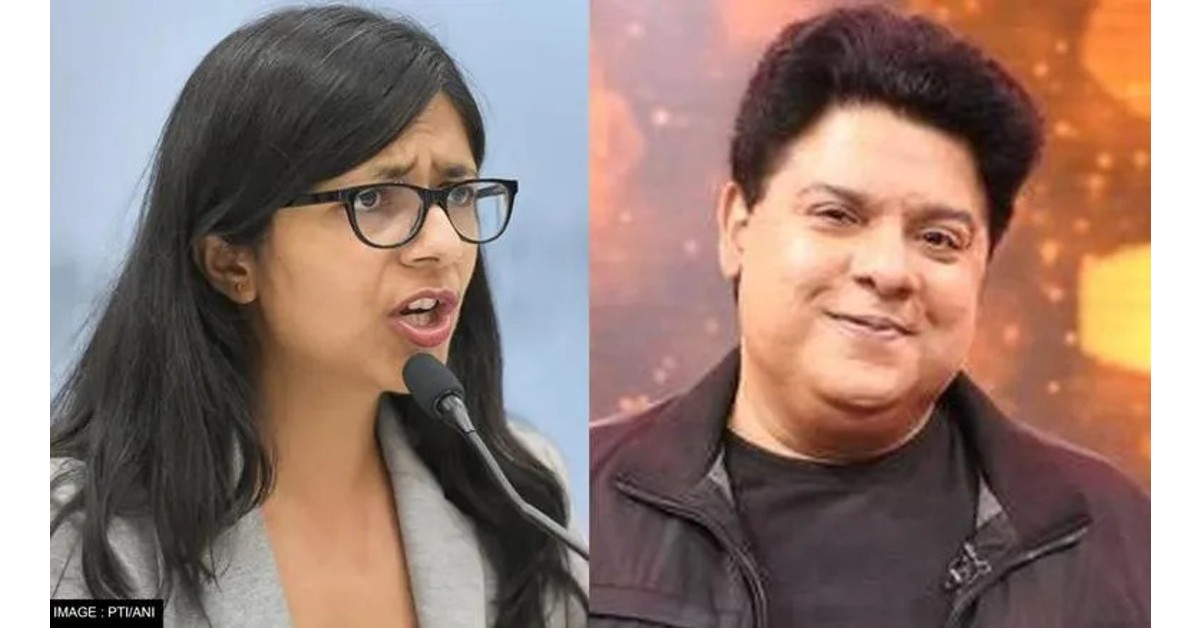 After lawyer Sukriti Chauhan started a petition to remove Bollywood filmmaker Sajid Khan from the television reality show Bigg Boss Season 16, the Delhi Commission for Women chief Swati Maliwal on Monday demanded his ouster from the show.
DCW Maliwal wrote a letter to the Union Information and Broadcasting Minister Anurag Thakur demanding Housefull's director removal from the Colors show over allegations of sexual harassment levelled against him by several women during the #MeToo movement.
Maliwal asked Anurag Thakur to step in and take the necessary measures to prevent Sajid Khan from taking part in the show. According to the DCW statement, she also asked the government to speak up and support the vulnerable in this situation.
In a tweet, DCW Maliwal wrote that ten women had accused Sajid Khan of sexual harassment during the #MeToo movement. All these complaints show the disgusting mentality of Sajid. Now, this man has been given a place in Bigg Boss, which is wrong. She added that she had written to @ianuragthakur to have Sajid Khan removed from this show.
Following the controversy, the Indian Film and Television Directors Association (IFTDA) suspended him for over a year in 2018 after multiple sexual harassments against him. He was also dropped as a director of Housefull 4 after this controversy and was replaced by Farhad Samji.
Several TV celebrities, including Devoleena Bhattacharjee, Uorfi Javed, Kamya Punjabi, Sona Mohapatra, and others spoke against Sajid Khan's entry into Bigg Boss 16. Devoleena on Sajid Khan's participation in the show said that it is a simple thing that nine women cast allegations against Sajid Khan. Not all of those nine can be wrong. Will someone install a camera and then abuse?
She further said this is why women avoid complaining about these incidents. Even the parents are scared that society will prove the victim as a liar. It breaks my heart to see him on national television, trying to prove he is a hero. I feel bad thinking about where is our society headed, she added.
Sona Mohapatra tweeted her disapproval of Sajid's appearance on social media, saying, "The reality TV star #SajidKhan is seen on this show. Then there is #AnuMalik, who is a judge on a children's music reality TV show. Kailash Kher, a celebrity judge on TV. ALL called out by many many women in @IndiaMeToo. Indian TV channels, executives are indeed a depraved and sad lot, she added.
Sajid entered the house at the grand premiere on October 1. He has been charged with multiple counts of sexual assault, including allegations that he exposed his private parts at parties and demanded nude photos from female actors to use in the casting process.
Pathaan breaks Dangal's record, becomes 3rd highest grossing Hindi film
Shah Rukh Khan starrer has beaten the total collection of Dangal in just 11 days of release.
Pathaan has broken the record of Aamir Khan's film Dangal as the had earned 374.43 crores at the domestic box office. According to the Box Office India report, Pathaan has collected Rs 386.50 crores in just 11 days. And now Shah Rukh Khan-Deepika Padukone starrer has become the 3rd highest grossing Bollywood film.
If the figures of Tamil and Telugu are added, then the total earning of the film will cross Rs 400 crores. Moreover, Yash Raj Films' worldwide collection, the film's figure has reached 729 crores. Pathaan is now at the forefront of films originally made in the Hindi language.
Pathaan broke Dangal's record
Aamir Khan's 2016 release Dangal had a lifetime collection of Rs 374.43 crores at the domestic box office. Since 2016, no Bollywood film could break this record. But now Shah Rukh Khan starrer has beaten the total collection of Dangal in just 11 days of release. Moreover, Dangal had the highest worldwide collection of Rs 2,024 crores among films originally made in Hindi language. At the second spot is Salman Khan's film Bajrangi Bhaijaan which has an overall collection of Rs 969.06 crores worldwide. Now Pathaan's entry has been made in this list with Rs 729 crores.
Famous Brazilian author and songwriter Paulo Coelho has also praised SRK fiercely. Paulo has written on social media that those who do not know Shah Rukh in western countries should watch My Name is Khan. In fact, Shah Rukh had recently shared a video on social media in which he was greeting fans outside his house Mannat. Reacting to this video, Paulo called Khan a king and has also wrote that he is a good friend and a brilliant actor.
SRK, who seems to be done with Pathaan's success, has now begun shooting for his next, Jawan. The film is being directed by Atlee.
Video of toddler claiming she didn't like Pathaan goes viral, here's how Shah Rukh Khan reacted | WATCH
Pathaan has broken Dangal's record to become the 3rd highest grossing Hindi film
Shah Rukh Khan's return to the big screen with Pathaan is like a dream come true for the actor's fans and admirers. The film is unstoppable at the box office, and even after a stellar 10 days, it is quickly approaching the 400 crore mark. King Khan's performance has been adored by all, and many people have applauded him for his incredible physique.
A little girl, however, did not enjoy the actor's film. Shah Rukh Khan gave her the sweetest response to her video.
Watch the viral video here:
A twitter user, going by the name Abhishek Kumar, posted the video online of the girl and captioned it, @iamsrk Ooops.
The man recording the video asks the little girl, Ahana, kaunsi movie dekh ke aayi thi (which film did she watch recently, Ahana?). To which she babbles cutely, Pathaan. The man then asks if she liked the film. The baby girl says, Nah. Nevertheless, she does not explain the reason behind it and smiles.
Shah Rukh Khan noticed this and commented that he needed to work harder now. The actor wrote on Twitter, "Oh oh!! Have to work harder now. Back to the drawing board. Can't let the younger audience be disappointed. Desh ke youth ka sawaal hai. PS: Try DDLJ on her please….maybe she is the romantic types….kids u never know!"
Khan's tweet received a lot of responses. "Oh! He's such a sweetheart, it makes my heart melt! "a user commented.
He literally read every tag, a user wrote. "This man has never changed, and if he does, he changes for the better."
A third individual added, "It's adorable to see so many movies of young children and infants watching Pathaan while their parents submit their own videos. The next generation is now aware that Pathaan exists in both real life and on screen."
"Wow! Such a lovely answer. once more bowing "another individual added.
SidKiara Wedding: Mehendi-Sangeet today; Shahid Kapoor, Mira, Karan Johar to reach Jaisalmer soon
Famous mehndi artist Veena Nagda had already reached Rajasthan and today she will apply mehndi on Kiara's hands.
Sidharth Malhotra and Kiara Advani will tie the knot on February 6 and their pre-wedding functions have already started from today at Suryagarh Palace in Jaisalmer, Rajasthan. The couple dating for 3 years now, will soon become Husband and wife. Bollywood celebrities have also left for Jaisalmer to attend this Bollywood wedding.
Shahid Kapoor has left for Jaisalmer with his wife Mira Rajput to attend the wedding. He was spotted at the airport. According to reports, Kiara's film RC15 co-star Ram Charan may also attend the wedding function. Apart from this, there are reports of Rohit Shetty also finishing his shooting and participating in the wedding. Bollywood ace director Karan Johar has also boarded the flight to Jaisalmer.
Strong security arrangements at SidKiara
On one hand, where the entire palace is equipped with CCTV, on the other hand, even the guests are not allowed to carry their phones. It is being told that Yasin, who was Shahrukh Khan's bodyguard, is handling the security of the wedding. Apart from this, a Mumbai-based company has got the responsibility of wedding planning.
Apart from the family, only very close friends will be involved in the marriage of Sidharth and Kiara. Bride-to-be reached Jaisalmer along with fashion designer Manish Malhotra. There, there are reports of Varun Dhawan, Natasha Dalal and Kiara's friend Isha Ambani attending the wedding.
The pre-wedding functions of Siddharth and Kiara's wedding are starting from today. Famous mehndi artist Veena Nagda had already reached Rajasthan and today she will apply mehndi on Kiara's hands. Wedding venue, Suryagarh Palace is also fully decorated for the SidKiara wedding.
Both the actors met in 2020, on the sets of Shershaah. Since then the dating rumors of both have been making rounds on the internet. Despite being spotted together on several occasions the two never accepted their relationship in media.