Earthquake kills over 300 in Iran and Iraq
[vc_row][vc_column][vc_column_text]Iranian leader calls all government agencies to rush for help
Over 300 people were killed in Iran and Iraq on Sunday when a powerful earthquake with 7.4 magnitude hit the region. Most of the casualties were reported from Iranian town Sarpol-e-Zahabi in Kermanshah province, close to Iraq border. More than a thousand others were injured while number of people trapped under the rubble is still unknown.
Tehran based official Press TV reports that as many as 339 were killed in Iran and Iraq and more than 1700 people have been injured. Legal Medical Organisation of Kermanshah has confirmed tracing 207 bodies until Monday morning. National Disaster Management Organization says power cuts have been reported in Kermanshah province. Dozens of villages in western Iran have also seen destruction of varying degrees.
According to US Geological Survey (USGS), the epicentre of the quake, which occurred at around 21.18 hours local time, was 32 km south of the Iraqi city of Halabja in Kurdistan and just across the border from Iran.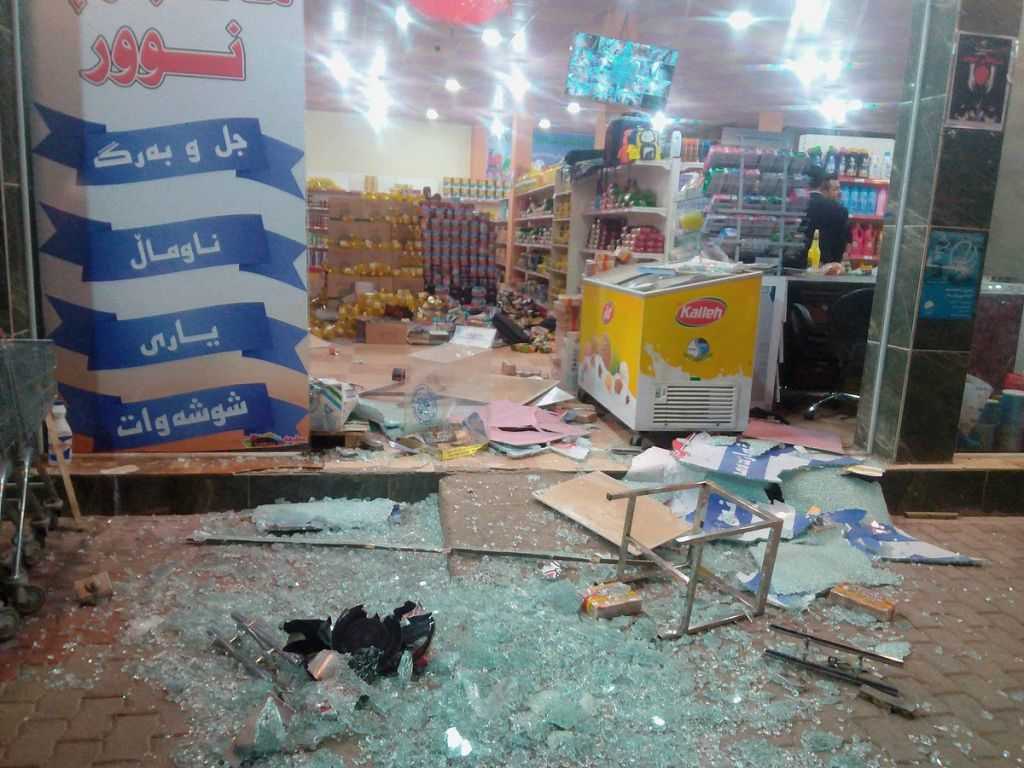 Supreme Leader Ayatollah Khamenei has called on all Iranian officials to "rush to aid of those affected in these early hours (after the incident)" He has also called on Armed forces to help with removing the rubble and transferring the injured to medical facilities.
According to Behnam Saeedi, a spokesman for Iran's National Disaster Management Organisation at least 164 people were killed and more than 1,650 were injured in Iran.
Earthquake was felt in many Iranian provinces but Kermanshah province was hit hard where authorities have announced three days' mourning. Sarpol-e-Zahab, situated about 15 km from Iraq border was the worst hit town in the province where 97 lives were lost.
Meanwhile Iraqi Kurdish health officials said at least four people were killed in Iraq and at least 50 injured. The shocks were felt as far south as Baghdad, where many residents rushed from their houses and tall buildings when tremors shook the Iraqi capital. People were in shock in Iraqi Kurdistan capital Erbil and across other cities in northern Iraq, close to the quake's epicentre.
Several Iranian and Iraqi cities witnessed sudden power cuts where thousands of residents moved to streets and parks due to fears of aftershocks. Approximately 50 aftershocks were registered by the Iranian seismological centre. More than 70,000 people were in need of emergency shelter in Iran.
Iran is situated at major seismological fault lines and is prone to frequent earthquakes. An earthquake of 6.6 magnitudes had devastated historic city of Bam, some 1,000 km southeast of Tehran, in December last year killing about 31,000 people.
In Iraq, the most extensive damage was reported from Darbandikhan, 75 km east of the city of Sulaimaniyah in Kurdistan Region. More than 30 people were injured in the city. A 12 year old boy died in due to electric shock from a falling electric cable in Halabja.
Southern Trukish city of Diyarbakir also witnessed earthquake shocks but there was no report of any casualty or structural damage. However Turkish authorities were, on Monday morning, were waiting for Iraqi response to their rescue offer for the Iraqi Kurdistan region.
Turkish Red Cross Society spokesman has said, "We are coordinating with Iranian and Iraqi Red Crescent groups. We are also getting prepared to make deliveries from our northern Iraq Erbil depot."
Earthquake shocks were felt in many other Iraqi cities including Karbala and Najaf where hundreds of thousand foreign nationals were housed after religious commemoration of Arbaeen, the 40th day of martyrdom of Imam Hussein, held on November 10.
The number of casualties may rise as the rescue efforts were on in several Iranian towns and villages while writing this report.
Tremors were also reportedly felt in Israel, Lebanon, Kuwait, Qatar, Eastern coast of Saudi Arabia and Israel.
Another Earthquake in Costa Rica
Meanwhile a strong earthquake measuring 6.5 magnitude rocked Costa Rica late Sunday at 20.28 local time. However there was not report of casualties or damages. The Public Security Ministry of the Central American country said on its twitter post, "We don't have report of any tragic situations from the recent earthquake."
Channel 16 caught the visuals of camera and table shaking. It also showed images of the people running in supermarket as products were falling on the ground.[/vc_column_text][/vc_column][/vc_row]
Canadian PM Trudeau wants to work constructively with India, says Canada shared credible allegations with New Delhi weeks ago
India has repeatedly denied claims of receiving any intel regarding the allegations from Canada before Justin Trudeau's announcement on Monday revealing them.
Canadian Prime Minister Justin Trudeau on Friday asserted that Canada shared credible allegations that the Indian government may have been involved in the killing of Khalistani terrorist Hardeep Singh Nijjar weeks ago, according to reports.
The Canadian Prime MInister added that his country wants to work constructively with India and hope that New Delhi engages with them so that they can get to the bottom of this very serious matter. Meanwhile, India has repeatedly denied claims of receiving any intel regarding the allegations from Canada before Justin Trudeau's announcement on Monday revealing them.
On Monday, Prime Minister Justin Trudeau alleged that there was a potential link between an Indian government agent and the killing of Hardeep Singh Nijjar, the chief of the banned Khalistan Tiger Force, who was gunned down in Surrey in June. Justin Trudeau made the allegations in the Canadian Parliament. 
India has debunked Canadian Prime Minister Justin Trudeau's statement deeming the allegations of the Government of India's involvement in any act of violence in Canada as both absurd and motivated. Issuing a statement, the Ministry of External Affairs (MEA) stated that they have seen and rejected the statement made by the Canadian Prime Minister in their Parliament. It added that they also rejected the statement made by their Foreign Minister.
After the allegations by PM Trudeau, the Canadian government expelled a top Indian diplomat. In a tit for tat move, New Delhi also expelled a Canadian diplomat. The Ministry of External Affairs spokesperson Arindam Bagchi also claimed that the Indian High Commission and consulates are facing security threats in Canada and therefore cannot process visa applications temporarily. 
Hardeep Singh Nijjar was among India's most-wanted terrorists, carrying a reward of Rs 10 lakh on his head. He was fatally gunned down by two unidentified assailants outside a gurdwara in Surrey, a province of British Columbia in Canada, on June 18, according to reports.
India-Canada row: No special exemption to India, says US NSA Jake Sullivan
Jake Sullivan asserted that this is something that they will keep working on, noting that there was no special exemption to India in the case.
The United States on Thursday affirmed that it is in constant communication with India and Canada amid increasing diplomatic tensions between both the countries. The diplomatic standoff broke out after Canadian Prime Minister Justin Trudeau asserted that his country's security agencies were investigating a link between the Indian government and the killing of Hardeep Singh Nijjar.
Speaking on the matter, US National Security Advisor Jake Sullivan told reporters that the US will be in contact with India at the highest level. He added that it is a matter of concern for them and they are taking it seriously. He asserted that this is something that they will keep working on, noting that there was no special exemption to India in the case.
He underlined that there is not some special exemption for actions like this. He added that regardless of the country, they will stand up and defend their basic principles. In addition, he affirmed that the US will also consult closely with allies like Canada as they pursue their law enforcement and diplomatic process.
Jake Sullivan further dismissed reports that the US's desire to strengthen ties with India would constrain its ability to voice concerns about the allegations. He asserted that the Joe Biden administration took Canada's allegations seriously and it was in constant contact with Ottawa.
He also noted that the US have deep concerns about the allegations and that they would like to see this investigation carried forward and the perpetrators held to account. Meanwhile, New Delhi outrightly rejected Canada's allegation as absurd and motivated. In a tit for tat move to Ottawa's expulsion of an Indian official over the case, New Delhi expelled a senior Canadian diplomat.
On Thursday, India asked Canada to take action against terrorists and anti-India elements operating from its soil. Furthermore, India also suspended visa services for Canadians, as the diplomatic standoff over Nijjar's killing pushed their ties to an all-time low.
Canadian High Commission asks Centre to ensure safety, security of its diplomats, staff in India
The High Commission affirmed that all consulates in India are open and operational and will continue to serve clients.
Amidst rising tensions between India and Canada, the Canadian High Commission on Thursday asserted that some of its diplomats have received threats on social media. It urged India to provide security for Canadian diplomats and consular officers in the country. The High Commission further revealed that it has decided to temporarily adjust its staff presence in the country.
The High Commission also affirmed that all consulates in India are open and operational and will continue to serve clients. It added that in the view of the current environment where tensions have heightened, they are taking action to ascertain the safety of their diplomats. It further underlined that Global Affairs Canada is continuously supervising the safety and security of their missions and personnel as they maintain a strict security protocol to respond to any events.
On the other hand, the Vancouver Police Department has tightened security outside India's Consulate amid planned threats from proscribed group Sikhs for Justice after Prime Minister Justin Trudeau claimed that Indian government agents were responsible for the killing of Khalistani terrorist Hardeep Singh Nijjar. Const. Tania Visintin, the department's media relations officer, noted that Vancouver police are not aware of any specific threats to Indian consular officials, but have increased police presence at the downtown Vancouver consulate.
In a shocking claim on Monday, Canadian Prime Minister Justin Trudeau claimed the country's security agencies were investigating a link between the Indian government and the killing of Nijjar. Following this, both India and Canada have been engaged in a diplomatic standoff. Earlier on Thursday, India suspended visa services for Canadian nationals until further notice owing to operation reasons.
In a meeting that was held on the sidelines of the G20 Summit, Prime Minister Narendra Modi reportedly conveyed strong concerns about continuing anti-India activities of extremist elements in Canada, promoting secessionism and inciting violence against Indian diplomats, damaging diplomatic premises, and threatening the Indian community in Canada and their places of worship.