Earthquake kills over 300 in Iran and Iraq
[vc_row][vc_column][vc_column_text]Iranian leader calls all government agencies to rush for help
Over 300 people were killed in Iran and Iraq on Sunday when a powerful earthquake with 7.4 magnitude hit the region. Most of the casualties were reported from Iranian town Sarpol-e-Zahabi in Kermanshah province, close to Iraq border. More than a thousand others were injured while number of people trapped under the rubble is still unknown.
Tehran based official Press TV reports that as many as 339 were killed in Iran and Iraq and more than 1700 people have been injured. Legal Medical Organisation of Kermanshah has confirmed tracing 207 bodies until Monday morning. National Disaster Management Organization says power cuts have been reported in Kermanshah province. Dozens of villages in western Iran have also seen destruction of varying degrees.
According to US Geological Survey (USGS), the epicentre of the quake, which occurred at around 21.18 hours local time, was 32 km south of the Iraqi city of Halabja in Kurdistan and just across the border from Iran.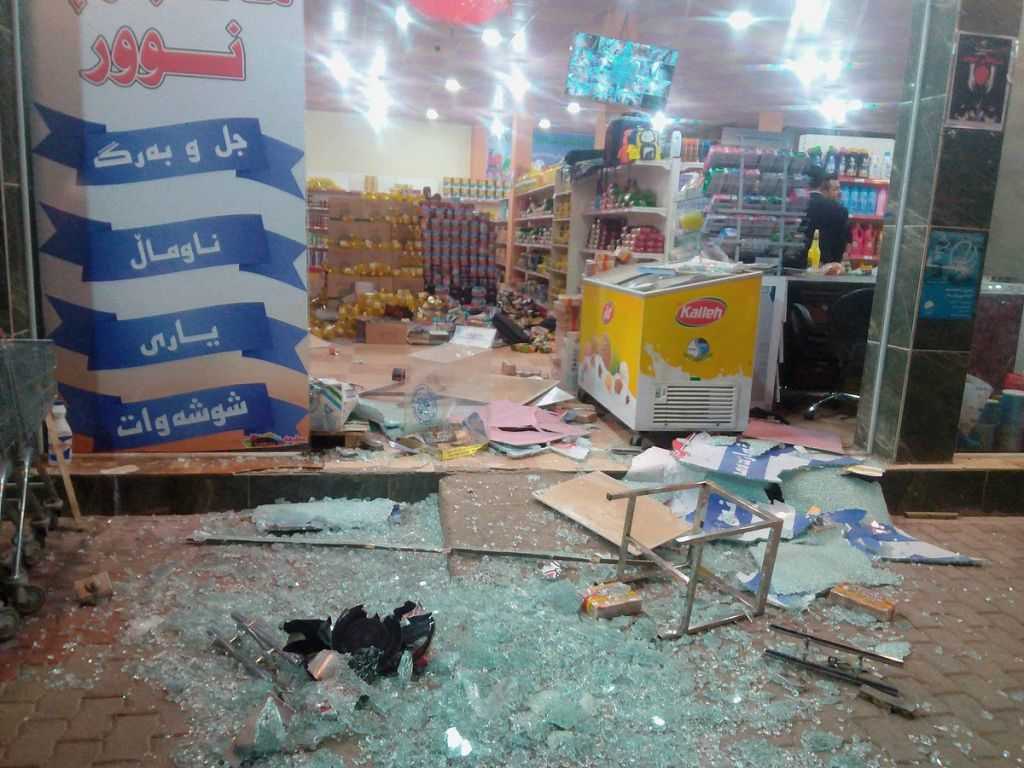 Supreme Leader Ayatollah Khamenei has called on all Iranian officials to "rush to aid of those affected in these early hours (after the incident)" He has also called on Armed forces to help with removing the rubble and transferring the injured to medical facilities.
According to Behnam Saeedi, a spokesman for Iran's National Disaster Management Organisation at least 164 people were killed and more than 1,650 were injured in Iran.
Earthquake was felt in many Iranian provinces but Kermanshah province was hit hard where authorities have announced three days' mourning. Sarpol-e-Zahab, situated about 15 km from Iraq border was the worst hit town in the province where 97 lives were lost.
Meanwhile Iraqi Kurdish health officials said at least four people were killed in Iraq and at least 50 injured. The shocks were felt as far south as Baghdad, where many residents rushed from their houses and tall buildings when tremors shook the Iraqi capital. People were in shock in Iraqi Kurdistan capital Erbil and across other cities in northern Iraq, close to the quake's epicentre.
Several Iranian and Iraqi cities witnessed sudden power cuts where thousands of residents moved to streets and parks due to fears of aftershocks. Approximately 50 aftershocks were registered by the Iranian seismological centre. More than 70,000 people were in need of emergency shelter in Iran.
Iran is situated at major seismological fault lines and is prone to frequent earthquakes. An earthquake of 6.6 magnitudes had devastated historic city of Bam, some 1,000 km southeast of Tehran, in December last year killing about 31,000 people.
In Iraq, the most extensive damage was reported from Darbandikhan, 75 km east of the city of Sulaimaniyah in Kurdistan Region. More than 30 people were injured in the city. A 12 year old boy died in due to electric shock from a falling electric cable in Halabja.
Southern Trukish city of Diyarbakir also witnessed earthquake shocks but there was no report of any casualty or structural damage. However Turkish authorities were, on Monday morning, were waiting for Iraqi response to their rescue offer for the Iraqi Kurdistan region.
Turkish Red Cross Society spokesman has said, "We are coordinating with Iranian and Iraqi Red Crescent groups. We are also getting prepared to make deliveries from our northern Iraq Erbil depot."
Earthquake shocks were felt in many other Iraqi cities including Karbala and Najaf where hundreds of thousand foreign nationals were housed after religious commemoration of Arbaeen, the 40th day of martyrdom of Imam Hussein, held on November 10.
The number of casualties may rise as the rescue efforts were on in several Iranian towns and villages while writing this report.
Tremors were also reportedly felt in Israel, Lebanon, Kuwait, Qatar, Eastern coast of Saudi Arabia and Israel.
Another Earthquake in Costa Rica
Meanwhile a strong earthquake measuring 6.5 magnitude rocked Costa Rica late Sunday at 20.28 local time. However there was not report of casualties or damages. The Public Security Ministry of the Central American country said on its twitter post, "We don't have report of any tragic situations from the recent earthquake."
Channel 16 caught the visuals of camera and table shaking. It also showed images of the people running in supermarket as products were falling on the ground.[/vc_column_text][/vc_column][/vc_row]
Pakistan man sentenced to death for sharing blasphemous content on WhatsApp
The accused, identified as Syed Muhammad Zeeshan, was also fined Rs 1.2 million or $4300 and awarded imprisonment of total of 23 years.
Pakistan court on Friday gave a death sentence to a Muslim man for posting blasphemous content in a WhatsApp group. The accused was convicted under the Prevention of Electronic Crimes Act and Anti-Terrorist Act by a Peshawar court.
The accused, identified as Syed Muhammad Zeeshan, was also fined Rs 1.2 million or $4300 and awarded imprisonment of total of 23 years.
The court in an order said that an accused Syed Muhammad Zeeshan, son of Syed Zakaullah in custody has been convicted and sentenced after being found guilty. Zeeshan, a resident of the northwest city of Mardan, has the right to appeal against the court's conviction order on the highly-sensitive issue of blasphemy in Pakistan.
Blasphemy is an extremely sensitive topic in Pakistan, a country with a majority of Muslims, where even unverified accusations can incite mobs and violence.
Zeeshan was undergoing court proceedings in the same case for almost two years after Muhammad Saeed, a resident of Talagang in Punjab province, accused him of posting blasphemous content in a WhatsApp group. Saeed filed an application with the Federal Investigation Agency (FIA) in 2021 againsy Zeeshan for blasphemous content.
As per the reports, the FIA had confiscated Zeeshan's cell-phone and its forensic examination proved him guilty.
In the past 20 years, 774 Muslims and 760 members of various minority religious groups have reportedly faced blasphemy charges, according to the National Commission of Justice and Peace, a human rights and legal help organisation in Pakistan.
Last month, Pakistan banned Wikipedia after it refused to remove the allegedly offensive or blasphemy material from the website.
Five news stations receive letter bombs in Ecuador, one explodes in journalist's face
Minister says the bombs were sent as a clear message to silence journalists in violence-ridden Ecuador
Ecuadorean authorities have reported that a series of letter bombs were mailed to five different TV and radio new stations in Ecaudor. The explosive devices were delivered to journalists on Monday, March 20.
Interior Minister Juan Zapata informed that one of these letters exploded in Guayaquil's Ecuavisa private TV station. The bomb burst in the middle of the newsroom in presenter Lenin Artieda's face. He was injured but not severely. Lenin informed the police that the device was structured like a USB drive, and it exploded as he plugged it into his computer.
Zapata added that all the devices were similar and sent from the town of Quimsaloma, on the Los Rios coast. The Ecuadorean attorney-general's department has begun their investigation on the letters as an act of terrorism. Journalists have said that the bombs were sent to intimidate the free press and silence the media.
Zapata also said that the government condemns such attacks and freedom of expression is a right that must be respected. The other four explosives sent through post never exploded as they failed or were never opened.
Police officer Xavier Chango informed the USB drive sent to Artieda seemed to be loaded with a military-type explosive RDX.
Ecuador lies between Colombia and Peru, the world's two largest cocaine producers, and has become a hub for global drug trade in the recent years. The increased violence is a result of competition and clashes between drug criminal gangs for territory and charge.
In 2022, the RTS TV station came under gunfire attack and in 2020, a bomb exploded at Teleamazonas. President Guillermo Lasso had declared war on the gangs controlling drug trade from prisons, and has led to the death of more than 400 inmates since 2021. Ecuador's murder rate has jumped from 14 per 100,000 inhabitants in 2021 to 25 per 100,000 in 2022.
Two local gangs, the Lobos and Los Tiguerones, working with Mexico's Jalisco New Generation cartel, have been responsible for these deadly prison riots. The Jalisco cartel is considered one of the five most dangerous criminal organizations in the world and its leader, Nemesio Oseguera, aka El Mencho, is among the most wanted by both Mexican and U.S. authorities.
Earthquake leaves 11 dead in Pakistan, tremors shake North India
A 6.8 magnitude earthquake that rattled parts of Northern India on Tuesday night, left at least 11 people dead and over 160 others wounded in neighboring Pakistan, reports said.
A 6.8 magnitude earthquake that rattled parts of Northern India on Tuesday night, left at least 11 people dead and over 160 others wounded in neighboring Pakistan, reports said.
According to reports by Pakistani media, tremors were felt in Lahore, Islamabad, Rawalpindi, Quetta, Peshawar, Kohat, Lakki Marwat, and other areas of the country. In a statement, Pakistan Meteorological Department said the epicenter of the quake—which hit at a depth of 180 kilometers, at a latitude of 36.09 and a longitude of 71.35. — was the seismically active Hindu Kush region in Afghanistan.
Reports said that tremors and aftershocks were also witnessed in Gujranwala, Gujrat, Sialkot, Kot Momin, Madh Ranjha, Chakwal, Kohat and in Gilgit-Baltistan areas.
Pakistani news channels showed panicked citizens running out of their home and on the streets to seek refuge from the tremors.
According to a report by Pakistan-based Geo News, eleven people, including two women were killed while over 160 people were injured due to the earthquake.
Read Also: Delhi Police crackdown on anti-Modi posters, police arrest 4 including owner of printing press, 44 cases registered
The strong jolts also led to the collapse of several buildings in impacted regions while a stamped was witnessed in markets of Rawalpindi when the earthquake hit, according to The Express Tribune newspaper.
State-run Associated Press of Pakistan released a statement by Pakistan Prime Minister Shehbaz Sharif, who has directed disaster management authorities to remain vigilant to handle any situation while Federal Health Minister Abdul Qadir Patel declared an emergency in Islamabad hospitals.
A statement by the international seismological centre said that apart from Pakistan, tremors were also felt in India, Afghanistan, Turkmenistan, Kazakhstan, Tajikistan, Uzbekistan, China and Kyrgyzstan.
Tremors of the earthquake, that hit at around 10:17 pm on Tuesday night, were felt across Northern India including Delhi-NCR, Chandigarh, Jammu and Kashmir and Uttar Pradesh. However, no casualties were reported. However, reports of damages to buildings are coming in from different parts of North India.
6.6 magnitude earthquake hits Delhi-NCR
BJP MLA tears kurta in protest over Ram Navami restrictions, says Jharkhand ruled by Taliban