Blast near Indian Embassy in Kabul kills 65, many more injured
[vc_row][vc_column][vc_column_text]Indian mission staff safe
A powerful suicide bomb explosion near the Indian Embassy has killed at least 65 persons in the Wazir Akbar Khan diplomatic enclave of Afghanistan capital Kabul on Wednesday morning. The blast smashed windows of buildings and huge plume of smoke could be seen in the high security area.
Prime Minister Narendra Modi, who is currently in Madrid, has strongly condemned the terrorist blast and expressed India's support to Afghanistan in fighting the menace.[/vc_column_text][vc_raw_html]JTNDYmxvY2txdW90ZSUyMGNsYXNzJTNEJTIydHdpdHRlci10d2VldCUyMiUyMGRhdGEtbGFuZyUzRCUyMmVuJTIyJTNFJTNDcCUyMGxhbmclM0QlMjJlbiUyMiUyMGRpciUzRCUyMmx0ciUyMiUzRVdlJTIwc3Ryb25nbHklMjBjb25kZW1uJTIwdGhlJTIwdGVycm9yaXN0JTIwYmxhc3QlMjBpbiUyMEthYnVsLiUyME91ciUyMHRob3VnaHRzJTIwYXJlJTIwd2l0aCUyMHRoZSUyMGZhbWlsaWVzJTIwb2YlMjB0aGUlMjBkZWNlYXNlZCUyMCUyNmFtcCUzQiUyMHByYXllcnMlMjB3aXRoJTIwdGhlJTIwaW5qdXJlZC4lM0MlMkZwJTNFJTI2bWRhc2glM0IlMjBOYXJlbmRyYSUyME1vZGklMjAlMjglNDBuYXJlbmRyYW1vZGklMjklMjAlM0NhJTIwaHJlZiUzRCUyMmh0dHBzJTNBJTJGJTJGdHdpdHRlci5jb20lMkZuYXJlbmRyYW1vZGklMkZzdGF0dXMlMkY4Njk3OTkyNDgyODc1ODgzNTMlMjIlM0VNYXklMjAzMSUyQyUyMDIwMTclM0MlMkZhJTNFJTNDJTJGYmxvY2txdW90ZSUzRSUwQSUwQSUzQ3NjcmlwdCUyMGFzeW5jJTIwc3JjJTNEJTIyJTJGJTJGcGxhdGZvcm0udHdpdHRlci5jb20lMkZ3aWRnZXRzLmpzJTIyJTIwY2hhcnNldCUzRCUyMnV0Zi04JTIyJTNFJTNDJTJGc2NyaXB0JTNFJTBBJTNDYmxvY2txdW90ZSUyMGNsYXNzJTNEJTIydHdpdHRlci10d2VldCUyMiUyMGRhdGEtbGFuZyUzRCUyMmVuJTIyJTNFJTNDcCUyMGxhbmclM0QlMjJlbiUyMiUyMGRpciUzRCUyMmx0ciUyMiUzRUluZGlhJTIwc3RhbmRzJTIwd2l0aCUyMEFmZ2hhbmlzdGFuJTIwaW4lMjBmaWdodGluZyUyMGFsbCUyMHR5cGVzJTIwb2YlMjB0ZXJyb3Jpc20uJTIwRm9yY2VzJTIwc3VwcG9ydGluZyUyMHRlcnJvcmlzbSUyMG5lZWQlMjB0byUyMGJlJTIwZGVmZWF0ZWQuJTNDJTJGcCUzRSUyNm1kYXNoJTNCJTIwTmFyZW5kcmElMjBNb2RpJTIwJTI4JTQwbmFyZW5kcmFtb2RpJTI5JTIwJTNDYSUyMGhyZWYlM0QlMjJodHRwcyUzQSUyRiUyRnR3aXR0ZXIuY29tJTJGbmFyZW5kcmFtb2RpJTJGc3RhdHVzJTJGODY5Nzk5MzYxMDY0MDM0MzA0JTIyJTNFTWF5JTIwMzElMkMlMjAyMDE3JTNDJTJGYSUzRSUzQyUyRmJsb2NrcXVvdGUlM0UlMEElM0NzY3JpcHQlMjBhc3luYyUyMHNyYyUzRCUyMiUyRiUyRnBsYXRmb3JtLnR3aXR0ZXIuY29tJTJGd2lkZ2V0cy5qcyUyMiUyMGNoYXJzZXQlM0QlMjJ1dGYtOCUyMiUzRSUzQyUyRnNjcmlwdCUzRQ==[/vc_raw_html][vc_column_text]Minister of External Affairs Sushma Swaraj has tweeted "by God's grace, Indian Embassy staff are safe in the massive #kabulblast"[/vc_column_text][vc_raw_html]JTNDYmxvY2txdW90ZSUyMGNsYXNzJTNEJTIydHdpdHRlci10d2VldCUyMiUyMGRhdGEtbGFuZyUzRCUyMmVuJTIyJTNFJTNDcCUyMGxhbmclM0QlMjJlbiUyMiUyMGRpciUzRCUyMmx0ciUyMiUzRUJ5JTIwR29kJTI2JTIzMzklM0JzJTIwZ3JhY2UlMkMlMjBJbmRpYW4lMjBFbWJhc3N5JTIwc3RhZmYlMjBhcmUlMjBzYWZlJTIwaW4lMjB0aGUlMjBtYXNzaXZlJTIwJTNDYSUyMGhyZWYlM0QlMjJodHRwcyUzQSUyRiUyRnR3aXR0ZXIuY29tJTJGaGFzaHRhZyUyRkthYnVsJTNGc3JjJTNEaGFzaCUyMiUzRSUyM0thYnVsJTNDJTJGYSUzRSUyMGJsYXN0LiUzQyUyRnAlM0UlMjZtZGFzaCUzQiUyMFN1c2htYSUyMFN3YXJhaiUyMCUyOCU0MFN1c2htYVN3YXJhaiUyOSUyMCUzQ2ElMjBocmVmJTNEJTIyaHR0cHMlM0ElMkYlMkZ0d2l0dGVyLmNvbSUyRlN1c2htYVN3YXJhaiUyRnN0YXR1cyUyRjg2OTc3NTMxMDcwNjcxNjY3MiUyMiUzRU1heSUyMDMxJTJDJTIwMjAxNyUzQyUyRmElM0UlM0MlMkZibG9ja3F1b3RlJTNFJTBBJTNDc2NyaXB0JTIwYXN5bmMlMjBzcmMlM0QlMjIlMkYlMkZwbGF0Zm9ybS50d2l0dGVyLmNvbSUyRndpZGdldHMuanMlMjIlMjBjaGFyc2V0JTNEJTIydXRmLTglMjIlM0UlM0MlMkZzY3JpcHQlM0UlMEE=[/vc_raw_html][vc_column_text]The Wazir Akbar Khan neighbourhood houses various embassies including those of Germany, the United States, France, Iran, Turkey Finland, the United Kingdom, Indonesia, the UAE and Canada.
According to agencies, Kabul Police spokesman Bashir Mujahid said, "It was a car bomb near the German embassy, but there are several other important compounds and offices near there too. It is hard to say what the exact target is."
Though Najib Danish, deputy spokesperson of the Afghan Interior Ministry, said at least 40 people were killed or wounded, a Health Ministry spokesperson said more than 60 wounded people mainly civilians had been rushed to Kabul hospitals adding, "We don't know the number of the killed yet."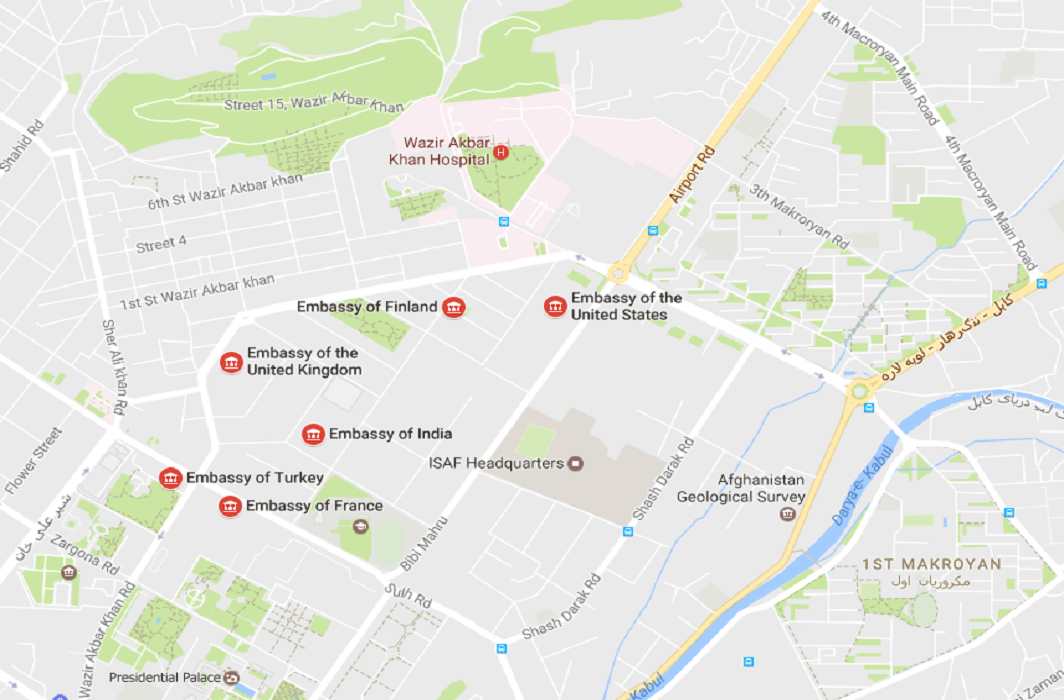 The spokesperson further said the blast was so heavy that more than 30 vehicles have been either destroyed or gutted.
No terror outfit or group has claimed responsibility for the attack as yet. But the Taliban has recently stepped up their attacks in the annual "spring offensive".
Earlier, the Islamic State had claimed responsibility for recent bombings in Kabul including a powerful blast targeting an armoured NATO convoy, killing eight people and wounding 28 on May 3 this year.[/vc_column_text][/vc_column][/vc_row]
RJD chief Lalu Prasad Yadav shoulder fractured, admitted to Patna hospital
The Former Chief Minister of Bihar, and RJD supremo Lalu Prasad Yadav fell down the stairs and his shoulder has been fractured. Lalu Yadav was already worried about his illness. Now, his health has been deteriorating, due to the fall on Sunday evening.
The Former Chief Minister of Bihar, and RJD supremo Lalu Prasad Yadav fell down the stairs and his shoulder has been fractured. Lalu Yadav was already worried about his illness. Now, his health has been deteriorating, due to the fall on Sunday evening.
Lalu Prasad Yadav has broken his shoulder due to the fall, which was treated by doctors. Later, he was sent home and advised to rest, but in the meantime, around 3 o'clock on Monday morning, Lalu Prasad Yadav was suddenly admitted to the ICU of Paras Hospital in Patna. This happened because his health was deteriorating.
After coming to the hospital, the doctors checked him, then it was found that the sugar level has increased due to which the problem has increased.
Read Also: Himachal Pradesh Bus Accident: At least 16 died, including school children, after bus falls into gorge in Kullu
Taking a decision to reduce the sugar level and keep it under the supervision of the doctor, the family admitted Lalu Prasad Yadav to the ICU where he is being treated continuously under the supervision of doctors.
During this time, the entire family including Lalu Prasad's two sons Tejashwi Yadav, Tej Pratap Yadav, and wife Rabri Devi were present. According to the reports, Lalu's health is fine now. Lalu Prasad is also a bit unwell due to a shoulder injury but for the time being, he has been advised to take two months of bed rest.
Giving a health update on Lalu Prasad on Monday, Asif Praman, Medical Superintendent of Paras Hospital, Patna, said "he was admitted due to shoulder injury. The team of doctors is continuously monitoring. He has some diseases from the past as well, about which caution is being taken. At present, he is undergoing treatment under the supervision of doctors and his condition is stable."
Weather Forecast: Is it going to rain today in Delhi-NCR? Yellow alert for coming 2 days
CBSE Class 10th Results 2022 to be out today, Know websites to check results, details
Who is Mehreen Qazi? Everything you need to know about IAS officer Athar Amir Khan's fiance
Reports said Mehreen pursued an MD in medicine from the United Kingdom and Germany.
Months after Tina Dabi got married to IAS Pradeep Gawande, her ex-husband IAS Athar Amir Khan got engaged to Dr Mehreen Qazi.
Sharing the picture on Instagram, Athar Amir announced the engagement with Qazi. In the viral picture, Athar could be seen pulling off the casual look and his ladylove looked absolutely exquisite in a white dress.
Check out Athar Amir Khan's post here:
Who is Mehreen Qazi?
Mehreen Qazi is a doctor who is currently working as Scientific Officer at Rajiv Gandhi Cancer Institute and Research Center in New Delhi. Reports said Mehreen pursued an MD in medicine from the United Kingdom and Germany.
Read Also: Madhya Pradesh tribal woman set on fire over land dispute, 3 arrested in attempt to murder charges
She is an avid social media user and enjoys a fan following of 268K followers on Instagram. She promotes brands and regularly shares videos and pictures on social media.
Athar Amir Khan and Tina Dabi
Athar and Tina became the inspiration to several after they emerged as the IAS toppers. Their love story began in 2015 at the IAS Felicitation Ceremony in Delhi. They attended their IAS training at Lal Bahadur Shastri National Academy for Administration in Mussorie and fell in love with each other in the process.
The couple got married in 2018 in a court marriage in Jaipur. After 2 years of marriage, Athar and Tina filed a divorce application in November 2020 with mutual consent.
Cut to 2022, Tina Dabi tied the knot with a 2013 batch IAS officer, Pradeep Gawande. The wedding took place in both Rajasthani and Marathi traditions. Currently, Tina is appointed as a Joint Secretary in the Director of Archeology and Museums.
Sidhu Moosewala murder: Two most wanted criminals, including one who shot Punjabi singer from close range, arrested by Delhi Police
Bihar: Video of Patna city magistrate MH Khan abusing caught on camera | WATCH
Delhi Paschim Vihar: Man hits dog for barking, attacks neighbours with iron rod
The bullying of a person has come to the fore in the Paschim Vihar area, Delhi where an annoyed man attacked a dog, its owners, and also neighbours with a rod.
A heart-wrenching video has come to light which is very disturbing. The bullying of a person has come to the fore in the Paschim Vihar area, Delhi where an annoyed man attacked a dog, its owners, and also neighbours with a rod.
When a family pet dog barked, a man living in the neighbourhood attacked three family members with an iron rod and injured them.
Read Also: Delhi metro: Delay in yellow line due to passenger on track at Jor Bagh metro station
According to the reports, the young man named Rakshit lives with his family in the Paschim Vihar area. Dharamvir Dahiya, a man living in his neighbourhood street, was going in front of his house on Sunday morning. During this time, his pet dog was sitting at the gate of the house. The dog barked at Dharamvir and some street dogs going after him, which made Dharamvir very angry. He grabbed the tail of Rakshit's pet dog, started beating him and threw the dog away.
After watching this, Rakshit came out and started refusing Dharamvir. Rakshit alleges that Dharamvir got angry and hit his dog with a brick which hit Rakshit, after which Dharamvir went home and came back with an iron rod. During that time, Rakshit's maternal uncle and aunt also came out of the house. Dharamvir first hit an iron rod in the dog's head as soon as he came back, and then attacked Rakshit's maternal uncle, due to which he fell on the spot.
Himachal Pradesh Bus Accident: At least 16 died, including school children, after bus falls into gorge in Kullu
Weather Forecast: Is it going to rain today in Delhi-NCR? Yellow alert for coming 2 days