[vc_row][vc_column][vc_column_text]
World Book Fair unaffected by demonetisation
By Karan Kaushik
Delhi is one city which is known for its love for reading and what could have been a better option to spend the much-awaited Sunday holiday for Dilliwallahs than being in the company of books. The World Book Fair is on at Pragati Maidan and people are flocking in large numbers to buy their favourite books and explore new authors and their works. At a time when demonetisation has badly affected the purchasing power of people, the book fair seemed hardly impacted.
In fact, this is the first time at the book fair that publishers and stall owners are encouraging their customers to use digital payment methods. While point-of-sale machines are being used in significant numbers at the fair, it is mobile wallet Paytm which is helping most customers and sellers. One could see Paytm boards at every other bookstall and sellers still dependent on cash payment are planning to transition soon.[/vc_column_text][vc_column_text]"The fair is a big hit after the note ban and we are witnessing a bumper sale, we have not received a single complaint about cash hassle so far," informed Kumar Samresh, Deputy Director, Publicity, Establishment and Training, of the National Book Trust, the organiser of the event. Kumar added: "This year, we are celebrating 60 years of NBT and the theme for this year is Manushi, which is writing on women by women, which is getting a good response from visitors."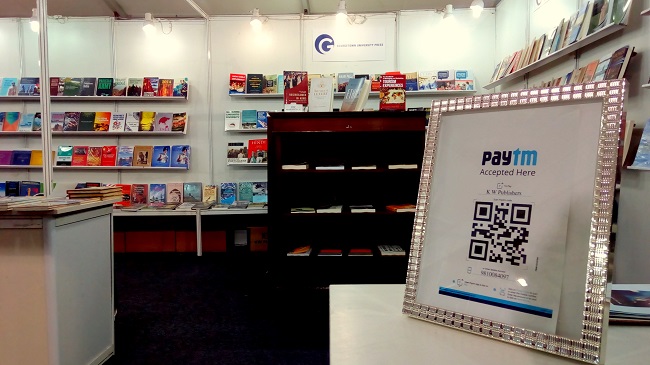 Kumar also said that children's books and fiction are the best-selling genres and that NBT has seen the best crowd this year because of the theme of Manushi and also because schools are closed and children are coming with their parents in huge numbers. "We expect a footfall of one lakh on Sunday," he said.
Speaking about digital payments, Beyaz Hashmi of the Indira Gandhi National Centrefor the Arts said: "Yesterday, we did the first sale of Rs 5,000 through digital payment and this is the first time we are using POS machine at our stall because we did not have one at the Cochin Book Fair and we suffered losses. So this time we rushed to our bank and got the machine issued so that our sales don't dip."[/vc_column_text][vc_column_text]But not every stall is using digital payments. Mudasir Ahmed of the Kashmir Book Trust said that they are still making do with cash payments and plan on switching to Paytm soon. Talking about the response of visitors, Ahmed said: "We are getting a good response and books mainly about conflict are the best-sellers. People want to know about the real picture of Kashmir and we want to spread knowledge through our books. Lost in Terror by NayeemaMahjoor is the best-seller this time."
The stalls which are witnessing the largest rush are the ones selling novels and books at prices as low as Rs99. You can buy classics—Charles Dickens, Emily Bronte, Shakespeare—at Rs99.
The fair also has educational books to offer with topics as varied as criminal courts,the cuisine of Punjaband mechanical vibrations and engine failure analysis to human rights, gender issues and the environment.
Then there are those amazing coffee table books that book lovers are always attracted to. Some impressive ones are Memorials of Jaypore Exhibition of 1883, Raja Ravi Varma– Painter of Colonial India, The Drawings of Adimoolam and Kalighat Painting.[/vc_column_text][vc_column_text]Rashmi Gupta, a student who is preparing for the civil service exams, seemed interested in reading about issues of international importance. "I am buying books on military strategies, mass mediated terrorism, nuclear diplomacy and insurgency and counter insurgency. I love reading about all these issues," Gupta said.
The Theme Pavilion at the book fair is displaying some of the finest works on and by women over centuries. The Pavilion will also host talksas well as cultural programmes throughout the duration of the fair.
The fair will continue until January 15. Entry tickets cost Rs 30.[/vc_column_text][/vc_column][/vc_row]
Despite MoU agreement in Home Minister Amit Shah's presence, Assam-Arunachal Pradesh border dispute returns back, 2 people killed
The incident happened when the victims were participating in a sapling plantation program on the occasion of World Environment Day in the Panbari area along the disputed Assam-Arunachal border.
Some unidentified assailants, allegedly from Arunachal Pradesh started firing in which two people were killed and two others injured in Dhemaji district of Assam. T
The incident happened when the victims were participating in a sapling plantation program on the occasion of World Environment Day in the Panbari area along the disputed Assam-Arunachal border.
Assam Chief Minister Himanta Biswa Sharma commented immediately after the incident, he said there is some issue in the areas of Dhemaji which is yet to be resolved and his government is on the process to resolve it. He claimed that the neighboring state does not attack Assam but there were some people in Arunachal Pradesh with the intention to occupy Assam's land who were found to be involved in such activities. He also said, Police will investigate the matter, assuring appropriate action.
Arunachal Pradesh Chief Minister Pema Khandu also commented on the incident, he said Assam and Arunachal Pradesh are already in talks to settle the border dispute issue peacefully and in most of the areas the dispute has been already resolved. He said, direction have been issued to the people of both states to not to fight and appealed the people to avoid engaging in a clash and directly report to the deputy commissioners in case of any problem.
The border dispute goes back to 69 years, when North East Frontier Agency (former name of what is now Arunachal Pradesh) was taken out of Assam. A Sub-Committee was formed based and around 3,648 km of the plain area of Balipara and Sadiya foothills were transferred from NEFA to Assam.  
The main motive of Arunachal Pradesh separating from Assam was the formation of Union Territory in 1972. Since then, there have been several attempts to settle the border dispute.
In an attempt to a peaceful settlement , Assam CM Sharma and Arunachal Pradesh CM Khandu signed a Memorandum of Understanding (MoU) in the presence of Union Home Minister Amit Shah on April 20, 2023.
After signing of the agreement (MoU), in a press briefing, Shah termed it a historic moment in Indian history. He said the report that was continually considered contentious by different government and courts was accepted by both the State government and the 800 km long border dispute issue got ended.
Madhya Pradesh girl elopes with Muslim boyfriend before her wedding, BJP MP Sadhvi Pragya had earlier advised to maintain distance from lover and took her to watch The Kerala Story
In spite of all the efforts, the teenage girl ran with her Muslim boyfriend Yusuf just before her marriage.
As the saying goes, love is blind. A 19-year-old nursing student from Bhopal eloped with her Muslim boyfriend Yusuf. BJP MP Sadhvi Pragya Singh Thakur had earlier advised the girl to stay away from her Muslim lover. She even took her to watch the Kerala Story.
In spite of all the efforts, the teenage girl ran with her Muslim boyfriend Yusuf just before her marriage.
Diverse Comments on the tweet started coming immediately, where one user said this was a case of Love Jihad. Another man blamed the BJP government for the incident, while some found the incident humorous. A war of words between Hindus and Muslims erupted soon after the incident surfaced across the internet.
The Kerala Story is a film that follows the story of a Hindu woman from Kerala played by Adah Sharma who is being brainwashed in the movie to convert to Islam religion and sent to Syria, where she was forced to join the terrorist organization ISIS.
The family of the teenage girl who lives in Naya Basera area of Bhopal said Yusuf was their neighbor. The girl ran with Yusuf just before her marriage, which was scheduled for May 30. She also took the cash and the jewelry that was saved for her wedding.
The family had registered a complaint at Bhopal's Kamla Nagar Police station. Her family said Yusuf had trapped their daughter with sweet talks and later eloped with her. The family also alleged that Yusuf had taken a bank loan in their daughter's name and forced her to pay its EMIs.
Although the girl had stated in her confession that she was running away with Yusuf out of her own free will. Yusuf already has criminal record in the local police station with about half a dozen cases charged against him.
BJP MP Sadhvi Pragya has advised girls not to get trapped by Love Jihad. Talking to the media, she said, girls should be aware and alert. She said, girls should understand that there is risk of life and should take the necessary precautions
Assam's AHSEC 12th results 2023 declared: Here's the steps to know the result and toppers name
On ahsec.assam.gov.in, students who appeared in the exam of Assam Higher Secondary Education Council's class 12th exams can check their results right now.
The class 12th result was made official by the Assam Board today. On ahsec.assam.gov.in, students who appeared in the exam of Assam Higher Secondary Education Council's class 12th exams can check their results right now.
This year, the overall pass percentage in the Science stream is 84.96 % while last year it was 92.19%, while in the Commerce stream, the pass percentage dropped from last year. This year Commerce stream stood at 79.57% while last year it was 87.27%. For Arts also the percentage dropped from 83.48% to 70.12%.
With 490 marks, Sankalpajit Saikia of Ramanujan Senior Secondary School in Nagaon has topped the Arts Stream. Notably, 18 students from the same school have been on merit lists for the Science and Arts streams.
The topper of the Science stream was Nikhilesh Dutta, a non-institutional private candidate. He scored 484 marks.
Sukanya Kumar of Malayabari Senior Secondary School Kamrup (Metro) and Varsha Bothra of KC Das Commerce College, both scored 472 marks to take first place in the commerce stream.
The digital mark sheet is available online for download by students, to check their results. However, students would be able to pick up their marksheets and certificates from the schools afterward. The Assam Board has also released the list of the top 10 students in all three streams i.e. science, commerce, and arts.
How to check Assam class 12th result?
Follow the given instructions below to check the results:
-Click on any of the official websites' links provided above.
-Click the link for the HS or class 12 results.
-Log in with the requested information
-Enter submit, then review the results.
Information needed to download the mark sheet
Notably, a total of 2,49,812 students appeared this year for the class 12th board exam. Earlier there were reports that the results for class 12th Assam would be released on May 27. However, the minister of education of Assam Ranoj Pegu, later refuted the reports.