Viral: Two kittens flummoxed by spinning top is melting hearts on the internet | WATCH
You need a cat break.
Cats and kittens are all over the internet in recent times. And why not? Their antics are always delightful to watch. Be it Monday or Sunday, cat videos never fail to bring a smile to our faces. They look like goofy ball and their cuteness can bring the dead to life.
It would not be wrong to say that cat videos have dominated the internet and you might agree that we all need a cat break.
In this episode, a video of two kittens flummoxed by a spinning top is doing rounds on social media and it will surely melt your heart. In the video, one could see that one of the kittens is carefully observing a spinning top and look confused. The other kitten tries to go further and touch it, however, is stopped by its friend.
The viral video was shared by Twitter user Paul Bronks on the platform and has garnered more than 3 million views, 15.8K likes, 1662 retweets, and 59 quote tweets.
Read Also: Huge sinkhole disrupts traffic on Noida-Greater Noida expressway
Watch the viral video here:
Soon after the video went viral, Twitter users couldn't stop but comment on it. One user wrote even little kittens are smart. Another user found it so cute. Many others agreed that cats are always so watchable.
Check out Twitter reactions here:
Recently, a video of a cat shaking a leg to the beats of a Punjabi song left the internet by surprise. In the viral video, a woman was seen holding her cat and making her groove on the beats of a Punjabi folk song.
Another cat video went viral wherein the cat could be seen emitting bright streams of Lazor light from both its eyes. The cat was sitting on a couch and looking around illuminating the surroundings with bright light emitting straight from its eyes.
Have a look at the Lazor cat here:
Viral: Beaver bathing just like human stuns the internet, video garners over 9 million views | WATCH
Banks to remain closed for THESE days next week, check holidays list in September
Video of man teaching elderly woman how to operate smart TV goes viral, here's how internet reacted
Almost every people nowadays uses smart devices on a daily basis, but they're still some people from the older generations who find it very difficult to operate one. So, it is better to make them familiar and teach them how to use it, as this guy did in the viral video. In the clip, the man was seen teaching an elderly woman how to operate smart television.
The footage has been shared by an internet user named Chris Evans on Twitter. He also captioned his post that reads how do I sign my parents up for this tutorial?
Take a look at the viral video of man teaching an elderly woman how to operate smart TV
In the video, it can be seen that a man instructs an elderly woman on how to locate various OTT sites on a smart TV. He was seen explaining what is the meaning of all the square that pops up after switching on the television. As the clip moves further, the man calmly was heard saying this box is called Prime Vides, and another box is called Disney and they have nothing to do with each other as both are different platforms.
Ever since the clip was posted on the internet, it has gained thousands of likes, massive viewership and thousands of reshares in no time. Many social media users have also bombarded the comment section in order to share their opinion about the same.
One of the users sarcastically commented that a good son would go there walk them through and patiently explain the process and then when they call for help, you should be to help. Another user wrote that it takes a lot of patience to do that task and clearly he doesn't have one. While the third user appreciates the man's gesture for helping an elderly lady.
Uttar Pradesh: Man shoots himself during Facebook live, here's what he says before suicide | WATCH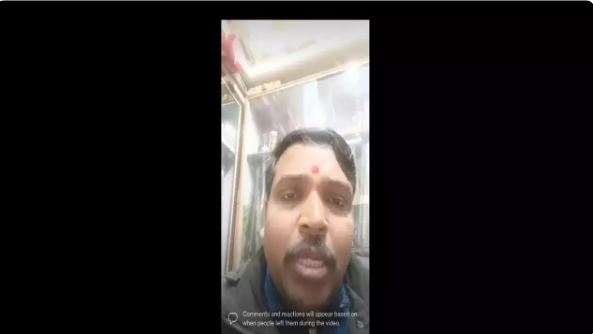 A shocking incident has been reported from Uttar Pradesh's Ballia, where a bussiness man shot himself dead during Facebook live. The report says that the man is frustrated with the moneylenders. Despite paying all the debts, they were harassing him and asking him to pay more interest.
The deceased has been identified as Nand Lal Gupta, an arms businessman who took his life on February 1. Before killing himself, he also urged Prime Minister Narendra Modi and UP CM Yogi Adityanath during Facebook live to take care of his family after him.
Take a look at the viral video of a man from UP's Ballia who killed himself during FB life
An internet user named Ankit Tripathi shared the viral footage on Twitter. He also captioned the post in Hindi reads Troubled by Ballia moneylenders, gun house owner shoots himself on Facebook live.
In the video, it can be seen that Gupta started his FB live, where he accused some money landers that have been harassing him unnecessarily despite paying all the loans. In the clip, he said that those people have taken away his house, and now he does not wanna live anymore. As the clip moves further, he takes out a weapon and shot himself in the head.
The report says that when the family member heard the sound of the gun, they rushed into Gupta's room and took him to the hospital, where doctors declared him brought dead.
When the incident came into the limelight, UP police also reacted about the same and replied that police teams have been formed to arrest the accused behind it. The police have also registered a case in connection with the suicide of a person at police station Kotwali. Justice soon will be delivered, the police said.
Tigress walking with four cubs melts hearts of social media users | WATCH
Madhya Pradesh's Pench National Park is considered one of the most popular wildlife reserves in the country. People across the country often visit the forest that has spread over a massive area of more than 758 sq km in order to see the beautiful life of wild animals there. Recently, a heart-melting video went viral on the Internet, where a group of visitors encountered a tiger who seen was crossing the path with its four cubs.
The clip has been shared by the Instagram page named Lallan Goap Pench🇮🇳. It also captioned the post that reads today's Morning. Patdev and her 4 cubs. The page in the caption also gave credit for the video to a person named Neel Mehta
Take a look at the viral video of tiger walking with cubs
In the video, it can be seen that two tourist vehicles standing back, maintaining a decent distance from the tigress who was seen crossing the path road in front of them. As the clip moves further, it shows the wild animal walking ahead while its four cubs follow in its footsteps.
Since the video was posted on social media, it has gained more than 4 million views and thousands of like in no time. Manny users also shared their opinion about the same in the comment section. One of the users wrote that nature is the greatest teacher, mothers don't have to hold any! They're following on their own! Another user commented bless this mama with four babies and thank you for sharing your wonderful experience. While the third user shared his experience as being a safari operator in South Africa. He wrote that love how evolution made nature adapt to the ecosystem and therefore perfect.
This is not the first time such a video grabbed eye balls on the internet. Earlier, a similar video went viral where a group of tiger was seen playing with each other in the dense forest.