India supports sovereign and independent Palestine
[vc_row][vc_column][vc_column_text]PM flown from Amman to Ramallah in a chopper under Jordanian and Israeli security escort
Prime Minister Narendra Modi has supported a "sovereign and independent Palestine" and expressed hope for the return of peace in the region during his meeting with Palestinian President Mehmoud Abbas in Ramallah on Saturday. He is the first Indian PM who visited Palestine without touching down in Tel Aviv.
Modi appreciated that Palestinian people have continuously shown exemplary courage in extremely tough times in spite of unstable environment. He said that "the way you moved forward in such a situation is praiseworthy, we appreciate it".
On this occasion President Mehmoud abbas expressed his desire to engage in negotiations. He said "We rely on India's role as an international force in the non-alignment movement and in the international for a, in a way that is conducive to desired peace in our region".
He further said that "It is my honor to welcome you as a great guest, on your first historic visit to Palestine which holds, to you personally and to the people of India, sentiments of love and appreciation. Indian leadership has always stood by peace in Palestine".[/vc_column_text][vc_raw_html]JTNDYmxvY2txdW90ZSUyMGNsYXNzJTNEJTIydHdpdHRlci10d2VldCUyMiUyMGRhdGEtbGFuZyUzRCUyMmVuJTIyJTNFJTNDcCUyMGxhbmclM0QlMjJlbiUyMiUyMGRpciUzRCUyMmx0ciUyMiUzRUklMjBjb25zaWRlciUyMGl0JTIwYW4lMjBob25vdXIlMjB0byUyMGJlJTIwaW4lMjBQYWxlc3RpbmUuJTIwSSUyMGJyaW5nJTIwd2l0aCUyMG1lJTIwdGhlJTIwZ29vZHdpbGwlMjBhbmQlMjBncmVldGluZ3MlMjBvZiUyMHRoZSUyMHBlb3BsZSUyMG9mJTIwSW5kaWEuJTIwSGVyZSUyMGFyZSUyMG15JTIwcmVtYXJrcyUyMGF0JTIwdGhlJTIwam9pbnQlMjBwcmVzcyUyMG1lZXQlMjB3aXRoJTIwUHJlc2lkZW50JTIwQWJiYXMuJTIwJTNDYSUyMGhyZWYlM0QlMjJodHRwcyUzQSUyRiUyRnQuY28lMkZsVVdLUEI5TnhlJTIyJTNFaHR0cHMlM0ElMkYlMkZ0LmNvJTJGbFVXS1BCOU54ZSUzQyUyRmElM0UlMjAlM0NhJTIwaHJlZiUzRCUyMmh0dHBzJTNBJTJGJTJGdC5jbyUyRjN1VVB0dWg0Z1AlMjIlM0VwaWMudHdpdHRlci5jb20lMkYzdVVQdHVoNGdQJTNDJTJGYSUzRSUzQyUyRnAlM0UlMjZtZGFzaCUzQiUyME5hcmVuZHJhJTIwTW9kaSUyMCUyOCU0MG5hcmVuZHJhbW9kaSUyOSUyMCUzQ2ElMjBocmVmJTNEJTIyaHR0cHMlM0ElMkYlMkZ0d2l0dGVyLmNvbSUyRm5hcmVuZHJhbW9kaSUyRnN0YXR1cyUyRjk2MjI4NzM1MjcyNjEzMDY4OCUzRnJlZl9zcmMlM0R0d3NyYyUyNTVFdGZ3JTIyJTNFRmVicnVhcnklMjAxMCUyQyUyMDIwMTglM0MlMkZhJTNFJTNDJTJGYmxvY2txdW90ZSUzRSUwQSUzQ3NjcmlwdCUyMGFzeW5jJTIwc3JjJTNEJTIyaHR0cHMlM0ElMkYlMkZwbGF0Zm9ybS50d2l0dGVyLmNvbSUyRndpZGdldHMuanMlMjIlMjBjaGFyc2V0JTNEJTIydXRmLTglMjIlM0UlM0MlMkZzY3JpcHQlM0UlMEE=[/vc_raw_html][vc_raw_html][/vc_raw_html][vc_column_text]Modi skipped visit to Palestine while visiting Israel in July 2017 signaling his government's decision to treat New Delhi's relations with two countries as "mutually independent and exclusive".
President Mahmoud Abbas conferred the "Grand Collar of the State of Palestine" order to Prime Minister Narendra Modi in recognition of his contribution to enhancing ties between India and Palestine.
This is the highest order given to given to foreign dignitaries – Kings, Heads of State or Government and persons of similar rank. King Salman of Saudi Arabia, King Hamad of Bahrain and President Xi Jinping of China are amongst those who were earlier conferred the same honor.
On his arrival in Ramallah, PM Modi tweeted, "this is a historic visit that will lead to stronger bilateral cooperation". He placed a wreath at the mausoleum of the late Palestinian president Yasser Arafat.[/vc_column_text][vc_raw_html]JTNDYmxvY2txdW90ZSUyMGNsYXNzJTNEJTIydHdpdHRlci10d2VldCUyMiUyMGRhdGEtbGFuZyUzRCUyMmVuJTIyJTNFJTNDcCUyMGxhbmclM0QlMjJlbiUyMiUyMGRpciUzRCUyMmx0ciUyMiUzRUFidSUyMEFtbWFyJTIwd2FzJTIwb25lJTIwb2YlMjB0aGUlMjBncmVhdGVzdCUyMHdvcmxkJTIwbGVhZGVycy4lMjBIaXMlMjBjb250cmlidXRpb24lMjB0byUyMFBhbGVzdGluZSUyMCUyMGlzJTIwaGlzdG9yaWNhbC4lMjBIZSUyMHdhcyUyMGElMjBnb29kJTIwZnJpZW5kJTIwb2YlMjBJbmRpYS4lMjBJJTIwcGFpZCUyMHRyaWJ1dGVzJTIwdG8lMjBoaW0lMjBpbiUyMFJhbWFsbGFoLiUyMCUzQ2ElMjBocmVmJTNEJTIyaHR0cHMlM0ElMkYlMkZ0LmNvJTJGM0UwYnhDQ1NqNSUyMiUzRXBpYy50d2l0dGVyLmNvbSUyRjNFMGJ4Q0NTajUlM0MlMkZhJTNFJTNDJTJGcCUzRSUyNm1kYXNoJTNCJTIwTmFyZW5kcmElMjBNb2RpJTIwJTI4JTQwbmFyZW5kcmFtb2RpJTI5JTIwJTNDYSUyMGhyZWYlM0QlMjJodHRwcyUzQSUyRiUyRnR3aXR0ZXIuY29tJTJGbmFyZW5kcmFtb2RpJTJGc3RhdHVzJTJGOTYyMjg5ODg4MjMzMjIyMTQ1JTNGcmVmX3NyYyUzRHR3c3JjJTI1NUV0ZnclMjIlM0VGZWJydWFyeSUyMDEwJTJDJTIwMjAxOCUzQyUyRmElM0UlM0MlMkZibG9ja3F1b3RlJTNFJTBBJTNDc2NyaXB0JTIwYXN5bmMlMjBzcmMlM0QlMjJodHRwcyUzQSUyRiUyRnBsYXRmb3JtLnR3aXR0ZXIuY29tJTJGd2lkZ2V0cy5qcyUyMiUyMGNoYXJzZXQlM0QlMjJ1dGYtOCUyMiUzRSUzQyUyRnNjcmlwdCUzRSUwQQ==[/vc_raw_html][vc_column_text]Meanwhile, US President Donald Trump's Jerusalem move causing loss of mediator's credibility in the Middle East crisis has given a fillip to India's position in the international arena. This was felt during Prime Minister Narendra Modi's meeting with Palestinian President Mehmoud Abbas in Ramallah on Saturday.
Before the two leader's meeting a senior Palestinian official said that Mehmoud Abbas will ask PM Modi to support muli-county sponsorship that would enable to replace the US as sole mediator in future negotiations between Israel and Palestine.
Palestinian leader, while visiting New Delhi in May 2017, expressed desire that India play important role in influencing Israelis and other stake holders for peaceful resolution of the crisis.
Since US President Donald Trump has recognized Jerusalem as the capital of Israel and asked Department of State to begin process of moving its embassy from Tel Aviv to Jerusalem, Mehmoud Abbas has been reiterating that Washington has lost the credibility of playing mediator's role in the conflict.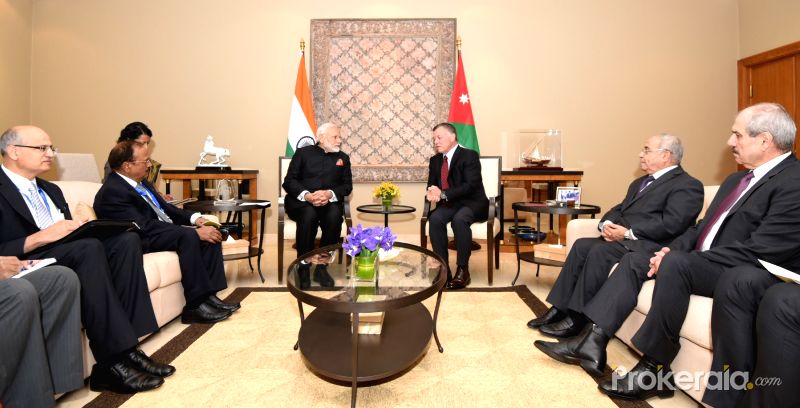 However, Palestinian leader has not received support for multi-national mechanism for mediating between Israelis and Palestinians.
Prime Minister took a chopper's ride from Jordanian capital Amman to Ramallah in West Bank, the headquarters of Palestinian Authority.  Reports say that PM Modi was escorted by Royal Jordanian helicopters and Israeli choppers on his journey to Palestine. Mehmoud Abbas is considered to be soft leader towards Western and Israeli approach towards Palestine considering they will fecilitate establishment of Palestine as independent state.
Ghaza, the other remaining Palestinian territory, is ruled by Hamas, considered to be pro-Iranian resistant group. Qatar has also been supportive of Hamas of late.
In Amman, PM Modi held "wonderful" meeting with Jordanian King Abdullah II that would boost bilateral ties. King described the meeting as the "beginning of a new chapter" in the ties between the two countries.
Reports say that talks between the two leaders covered the Palestinian cause and Jordan's role in protecting Islamic and Christian sites in Jerusalem, based on Hashemite custodianship over the holy shrines.
Modi arrived in Amman on Friday. After visiting Palestine, he is scheduled to visit UAE and Oman.
In an attempt to strengthen cooperation in trade, investment and energy security, PM Narendra Modi is on four nation tour. He is scheduled to reach Abu Dhabi Saturday evening on the invitation of UAE President Sheikh Khalifa bin Zayed Al Nahyan. He will address World Government Summit in Dubai, where India is the Guest of Honor country. Meanwhile 12 agreements will be signed between the two countries. He will also visit a temple constructed by Indian community in that country.
Later, he will visit Muscat, the capital of Oman. Meetings with Indian Diaspora in UAE and Oman will also figure during the visit to these countries.
PM Narendra Modi's Palestine visit came at a time when Israeli PM Benjamin Netanyahu has recently visited India on a six day long landmark trip. Besides New Delhi, Netanyahu visited Agra, Ahmedabad and Mumbai.[/vc_column_text][/vc_column][/vc_row]
Bizarre: Man travels across 203 countries in 3,512 days without taking a single flight
Thor travelled via a total of 351 buses, 158 trains, 43 tuk-tuks, 37 container ships, 33 boats, 9 trucks, 3 sailboats, 2 cruise ships, 1 police car, 1 yacht, and a horse-drawn carriage.  He made particular to spend a minimum of 24 hours in each nation during his incredible journey.
Danish citizen Thor Pedersen has travelled to every country in the world. He got there by all means of travel possible — by foot, by car, by bus, by train, by boat, and a container ship. It took the 44-year-old man 10 years to finish this challenging task. Pedersen began his trip in October 2013, reports said.
He claimed to have travelled through every nation in the world without using a plane in 3,512 days, according to reports. Even though there are 195 countries on the United Nation's official list, Pedersen claims to have visited 203 countries since he included disputed territories.
Pedersen travelled on a total 351 buses, 158 trains, 43 tuk-tuks (autos), 37 container ships, 33 boats, 9 trucks, 3 sailboats, 2 cruise ships, a police car, a yacht, and a horse-drawn carriage. He made it particular to spend a minimum 24 hours in each country during his journey.
He also travelled to India in the latter half of 2018 and the beginning of 2019. After a remarkable 3,512-day journey, he arrived in the Maldives, his 203rd and last nation, via container ship. Pedersen is now among the 150 people in the world with the most travels thanks to this incredible accomplishment.
On his incredible journey, he said, it was challenging for him to plan for everything that would come his way because this had never been done before. He said he was proud that he never gave up throughout all of this. He was pleased that he was able to bring out the strength which was required.
Pedersen faced enormous challenges as a result of the COVID-19 pandemic, which left him stranded in Hong Kong for two years. He thought of giving up the project because of the virus's unknown characteristics and the growing danger. However, he received support from Le, his long-time girlfriend, during the break in his preparations. Interestingly, the pair chose to get married, and Le visited him 26 times during that period.
Thor Pedersen financed his trip with personal savings, business sponsorships, and crowdfunding with a daily expenditure of just $20 (around Rs 1500). Many people followed his incredible journey on social media along the way, joining him there.
He has been working nonstop to record his adventures, and he intends to make a feature-length documentary that highlights his journey. Pedersen will soon release a book, to enable his admirers to find out more about his adventures.
White House hails India's democracy, calls it vibrant ahead of Prime Minister Modi's US tour later this month
A National Security Council official at the White House, John Kirby, while addressing a press conference said the strength and health of democratic institutions will be part of the discussion with PM Modi during his visit to the state.
The White House on Monday said India is a vibrant democracy and anybody can witness that on visiting New Delhi dismissing concerns about the health of democracy in India as Prime Minister Narendra Modi is scheduled to visit the US later this month.
A National Security Council official at the White House, John Kirby, while addressing a press conference said the strength and health of democratic institutions will be part of the discussion with PM Modi during his visit to the state.
Kirby said the US hopes to have a deeper partnership with India which would strengthen their relations. He further added that India is a strong partner with the US on many levels.
Kirby said there would be additional Defence cooperation between the two nations. He also stated that the economic activities between the two countries were at an all-time high and India, as a Pacific Quad member, is a key partner to the Indo-Pacific security.
He further added America's relationship with India is multi-dimensional that took place at many levels. Kirby said US President Joe Biden is awaiting Prime Minister Modi's visit to discuss all the issues and deepen the bond of friendship and partnership between US-India.
Kirby's comments help in establishing the commitment of the Biden administration to work with the Modi–led government, which has reportedly come under criticism from some political quarters in the US and its media for the alleged depletion of India's democratic institutions.
Congress leader Rahul Gandhi, in his recent visit to the US, made remarks on press freedom, institutions, and democracy in India.
While the official visit is on June 22, PM Modi will lead the International Yoga Day celebrations on July 21 at the United Nations in New York. He is likely to meet political and business leaders during his visit. The leaders are expected to discuss China's actions in Asia and beyond, which are feared to be against their shared interests.
Indiana Ophthalmics: Gujarat based company supplies poor quality eye drops in Sri Lanka
On Thursday, Pharmaceutical Export Promotion Council (Phermexcil), India's Centre agency looking after the promotion of pharmaceutical exports from India has sent a notice to the Gujarat company asking an explanation and an internal investigation report on the quality of the Methylprednisolone eye drops.
A Gujarat based top pharmaceutical manufacturing firm Indiana Ophthalmics has been accused of supplying poor quality eye drops to Sri Lanka. The Sri Lankan government has complained to the Indian government stating that the eye drops supplied by the company has has caused eye infection to 30 people.
On Thursday, Pharmaceutical Export Promotion Council (Phermexcil), India's Centre agency looking after the promotion of pharmaceutical exports from India has sent a notice to the Gujarat company asking an explanation and an internal investigation report on the quality of the Methylprednisolone eye drops.
Phermexcil Director General Udaya Bhaskar in a letter to Indiana Ophthalmics has stated that the alleged supply of the contaminated eye-drops by the company has dented the reputation of the Indian pharma industry and will have to face trust issues by the international agencies on the export of pharmaceuticals from the country.
A probe has also been started by the Central Drugs Standard Control Organisation on Thursday, to investigate into the questions of quality concerns being raised on the eye drops being manufactured by Indiana Ophthalmics. The drops were recalled by Sri Lanka's Ministry of Health in April this year saying the patients had reported complications after using them.
The Sri Lankan government claimed to have found bacteria Burkholderia cepacia in the eye drop. The Lankan government has asked the Indian government to compensate the affected patients and has demanded to investigate into the matter. Reports claimed, the firm has been told to stop production of eye drops immediately.
As per reports, the state drug officials had tested the drops and are waiting for results. Reports also said, these drugs require sterility testing hence, the test results will take another 15 days. Once the test results are out, they will be sent to the Sri Lankan government immediately.

A similar case was reported in February 2023, when questions were raised against Tamil Nadu based Global Pharma Healthcare, a firm whose product was allegedly linked with contamination causing blindness and one death in the US.