Adityanath, his 2 deputies and ministers to enter UP Assembly as MLCs, not MLAs
[vc_row][vc_column][vc_column_text]Uttar Pradesh chief minister shies away from contesting by poll to enter state Assembly, election for UP Vidhan Parishad scheduled for September 15
At a time when the BJP has been riding high on its remarkable victory in the Uttar Pradesh Assembly elections held earlier this year, it seems Uttar Pradesh chief minister Yogi Adityanath – who is still a Lok Sabha MP from the state's Gorakhpur constituency – doesn't wish to face the electorate in a by poll to be elected to the Vidhan Sabha.
Adityanath, his deputy chief ministers Keshav Prasad Maurya (Lok Sabha MP from Phulpur) and Dinesh Sharma, as also his cabinet colleagues Swatantradev Singh and Mohsin Raza will all enter the Uttar Pradesh assembly as Members of Legislative Council and not MLAs.
The BJP central election committee has finalised their names to contest MLC polls due on September 15 for the five seats in the UP Vidhan Parishad (the state equivalent of Parliament's upper house – Rajya Sabha) that fell vacant after the resignation of four Samajwadi Party members and one Bahujan Samaj Party MLC.
The MLCs who had resigned earlier this month were Samajawadi Party's Bukkal Nawab, Yashwant, Sarojini Agarwal and Ashok Bajpai and Bahujan Samaj Party's Thakur Jaiveer Singh.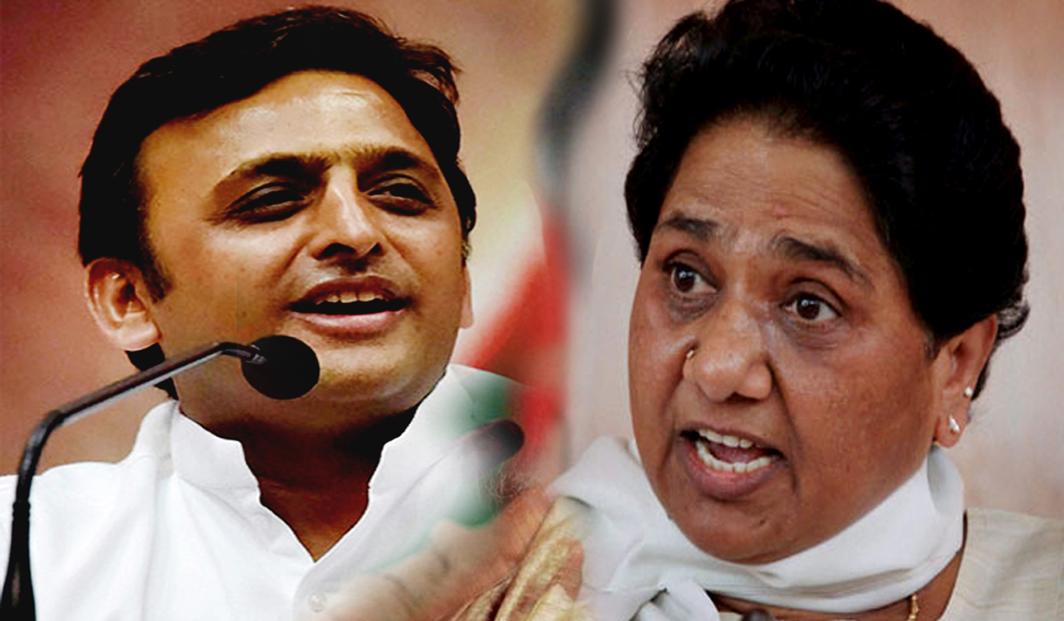 The SP and BSP MLCs – whose terms were anyway about to expire – had recently resigned from their respective parties when BJP national president Amit Shah was on a visit to Lucknow. SP chief Akhilesh Yadav and BSP supremo Mayawati have both accused the BJP of engineering the resignations of the MLCs – who later switched to the saffron party – to facilitate the entry of Adityanath and his cabinet colleagues into the council without sacrificing any lawmakers in the Vidhan Sabha.
The desperation of the BJP and Adityanath in avoiding a direct (MLA) election to enter the Vidhan Sabha can be gauged from the fact that the UP chief minister had recently written to the Election Commission urging it to hold by poll for the seat vacated by Thakur Jaiveer Singh at the same time as the election for the other four seats.
Jaiveer Singh's tenure as MLC was scheduled to end on May 5, 2018. Though six MLC seats were vacant, the EC had announced by poll only for four seats as terms for the remaining two seats was to end in less than one year and the poll panel usually avoids holding by-election to seats that are set to open up for election within such a short period.
However, on Tuesday, the EC – obliging Adityanath's request – announced elections for the seat vacated by Jaiveer Singh.
The ECI is not holding by poll for the sixth seat vacated by SP member Ambika Chaudhary, who had later joined the BSP.
While nominations to four Vidhan Parishad seats began on Tuesday, the nomination procedure for the fifth seat – vacated by Jaiveer Singh – will now begin onAugust 31 and end on September 7. The last date of withdrawals is September 11. Voting, if necessary, will take place on September 15 and counting of votes will be done on the same day. Adityanath and his four cabinet colleagues have to be elected to either house of the UP Assembly by September 19.
Although the five leaders will now not be required to contest direct polls to enter the UP Vidhan Sabha, their entry into the Vidhan Parishad will force a by-election to the Gorakhpur and Phulpur Lok Sabha seats represented by Adityanath and Keshav Prasad Maurya respectively. Adityanath and Maurya will be required to resign from their Lok Sabha seats within 15 days of their election as MLCs.
Yogi's decision to enter the UP Assembly as an MLC has surprised many as the BJP top brass had maintained that the controversial priest-politician will contest the assembly by poll after asking one of the sitting BJP MLAs to resign. Several BJP MLAs had even offered to resign from their seats in order to allow Adityanath to contest a by poll.
Sources say with a strong presence in both houses of the UP Assembly, the BJP can easily pass laws and take decisions without Opposition veto.
Like the Rajya Sabha, members of the Vidhan Parishad are elected for six years by legislators and others. Many would say this saves candidate the grind of facing the electorate directly through campaigning, public rallies and voting.
Yogi Adityanath's predecessors Akhilesh Yadav and Mayawati were also Members of the Legislative Council as were former UP chief ministers Vishwanath Pratap Singh, Narayan Dutt Tiwari and Ram Prakash Gupta.
Members of the Vidhan Parishad cannot participate in a vote of confidence or suggest money bills, unlike their counterparts in the Vidhan Sabha.[/vc_column_text][/vc_column][/vc_row]
UP women fight over garage space; video goes viral | Watch
Over 47,000 people have seen the video since it has been uploaded. People are giving different reactions to the video.
With vehicles increasing on the road day by day, it is obvious that space to park them becomes scant. In a video which is going viral, two women from Uttar Pradesh can be seen arguing and attacking each other over what both claim as their garage space.
The woman, who made the video and posted it on social media, can be seen charging the other slightly elderly woman and her husband for using his position to grab the space paid for by the woman making the video.
The video begins with a handyman who is seen breaking the lock of a caged garage space and the woman shooting it can be heard saying she had it built herself. She then threatens the elderly woman that she will post the footage on social media, but the elder woman nor the handymen seem particularly alarmed by it.
When things turn violent, the elderly woman throws broken lock away. The other woman tries to prevent her from doing so and ends up grabbing the elder woman by her neck. The recording ends when the elder woman retaliates by slapping the younger woman several times, leading to her phone falling.
Over 47,000 people have seen the video since it has been uploaded. People are giving different reactions to the video. One user said these are common things in small towns and cities, another said the last slap on the phone was hilarious while others were dropping laughing emojis on it.
However, these days, such videos showing violence between women have become common on social media. A few days ago, a video from Delhi Metro went viral where two young women got into a heated argument which quickly turned into a fistfight.
The women can be seen preparing for the fight by setting aside their phones as the video begins with one of them taking off her sneaker and brandishing it like a weapon. Other passengers can be heard begging them not to fight.
Parking-related arguments and fights have snatched many lives in the Delhi National Capital Region. Luckily in this video, the violence did not reach such fatal ends.
Bail too late: 62-year-old man gets relief on humanitarian grounds 2 days after he's dead
A shocking case has emerged in Mumbai, Maharashtra. A Mumbai court granted bail to an accused two days after his death.
A Mumbai real estate agent, who had been in jail since December 2021 for selling property with fake documents, has been granted bail but unfortunately Suresh Pawar had died two days before the relief was granted.
The accused had been in jail since December 31, 2021 and had requested six-month temporary bail due to health concerns. Though the hearing on his bail application was completed on May 9 when he was alive, the bail order came two days after his death.
The court granted him temporary bail on humanitarian grounds, looking at his age, medical complications, and further need for medical care.
As per the bail application, he was severely diabetic and was experiencing several age-related ailments. In February, he suffered a toe injury and was taken to JJ Hospital, where he was discharged from. However, he had claimed he needed to have the toe amputated since it had turned gangrenous. His lawyer had moved the plea so that he could undergone treatment at a private hospital.
In March, the Bombay High Court gave directions to jail authorities to provide proper medical treatment, after which he withdrew his bail application from the High Court on April 19.
On the same day, Pawar's health condition deteriorated, and he was again admitted to JJ Hospital, but due to inappropriate medical treatment, his injury became septic, and his leg below the knee necessarily required to be amputated.
Later, he developed a lung infection and sought temporary bail for a six-month period to avail himself of proper medical treatment.
The prosecution and opponent opposed his plea, arguing that he was being provided with enough medical care at JJ Hospital.
The death of Suresh Pawar will not provoke a thousand searing editorials but is scathing on the apathy and the callousness the State metes out to citizens, even if accused of crime.
Boy buys sanitary pad for fellow student after she gets unexpected period in class, netizens praise boy
The act of goodwill by young boy indicates his bringing and parenting. It is reminder that empathy has no boundaries. This generation needs more people like him who break the myth and orthodox rooted in the society.
A girl's tweet is going viral on the internet where she described how a boy in her institute went the extra mile to help her after she unexpectedly got her period in class. He offered help by breaking all traditional taboos, went to the shop with the girl and got her the pad and an ice cream for her. She showed her love for the city and its people. Many people praised this simple act of generosity, a small kind act that can bring positive impact on people at large in our society.
The post got many positive reactions. People were impressed with the young boy's gesture and also they were glad to witness such change in the surroundings. Good people are everywhere, they need to be recognized. Another person stated, the good thing about social media is that more people are getting aware about the problem faces by women. Such people has always kept the society's soul alive, they make it a safe place for women.   
The act of goodwill by the boy indicates his bringing and parenting. It is a reminder that empathy has no boundaries. This generation needs more people like him who break the myth and orthodox roots embedded into them by society. To make society more healthy and inclusive for everyone, we need more courageous people to take steps forward to break the social stigma.
There have been several myths attached to the menstrual cycle in India. The concept of purity and impurity dates to Vedic times. Living in the 21st century, it is important for us to understand that there is nothing pure or impure about periods. It is the male-dominated society and institution that determines whether something is pure or impure and moulds it into an unquestionable and unchallenged object of belief. The so-called dirty menstrual flow which supposedly makes women impure is scientifically linked with procreation. The blood and tissue that a woman's body evicts are not utilized by the body. Menstrual flow is as impure or pure as blood flowing through a non-menstruating man's arteries and veins.
Given the immense impacts in a girl's life that occurs with puberty, it is critical to invest in women's education as a means of influencing young girls, shifting discriminatory norms and debunking these myths. As women don't live in isolation, it is also crucial to educate men and boys as their silence legalizes and reinforces period myths. In short, to address the issue more holistically, multidimensional approaches are required to connect physical infrastructure, sanitation projects, health education and reproductive health programmes.