Mehmoud Abbas accuse Hamas for attack on PM
Rift between Palestinian Authority and Hamas widens
In a major development, President of the Palestinian Authority Mahmoud Abbas has accused Gaza based pro-Iran resistance group Hamas of orchestrating the explosion targeting Prime Minister Rami Hamdallah as he entered the Gaza Strip last week.
While addressing a meeting of Palestinian leadership in Ramallah late on Monday, Abbas said, "We do not want them to investigate, we do not want information from them, we do not want anything from them because we know exactly that they, the Hamas movement, were the ones who committed this incident."  He further said that if the "assassination attempt" had succeeded,  it would have opened the door for a bloody civil war.
Fatah leads the Palestinian Authority, a semi- autonomous body that governs the occupied West Bank.  Hamas rules Gaza, currently besieged by Israelis. Hamas was elected to rule Palestine in 2006. However, their government was not recognised by Israel, US and their allies.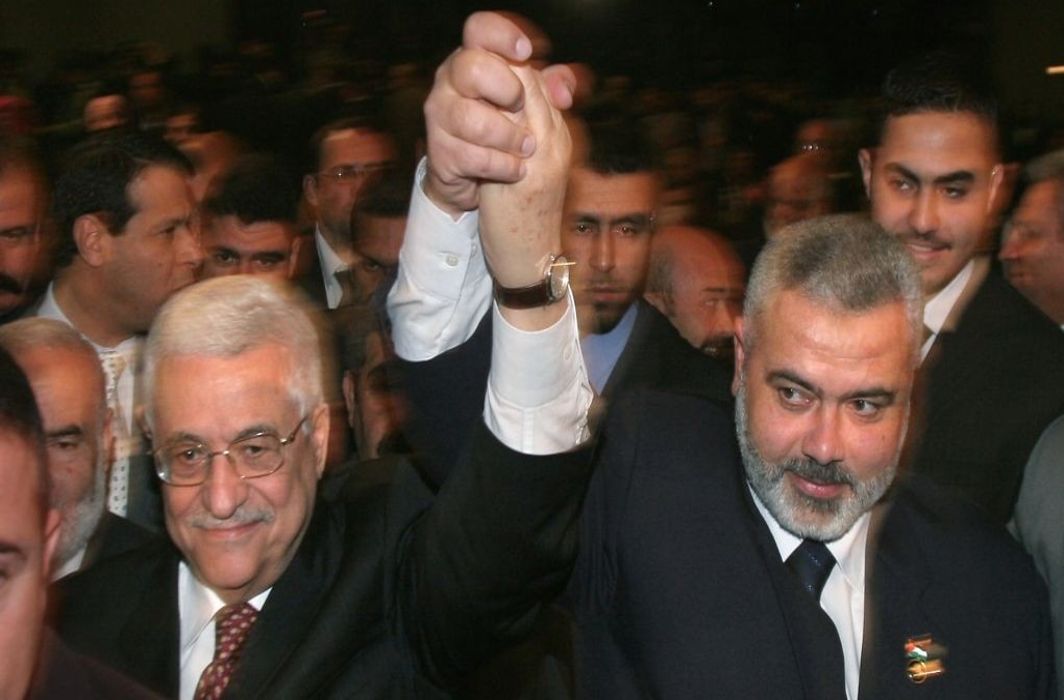 The blockade of the Gaza strip, which includes land, air and sea blockade by Israel and Egypt, began in 2007. Only one year after 2005 disengagement from Gaza strip by Israel, Hamas won the Palestinian legislative election.
In March 2007, Hamas and Fatah formed the unity government headed by Ismail Haniya as Prime Minister. Shortly after that Hamas took control of the Gaza Strip during the Battle of Gaza. Hamas seized government institutions and replaced Fatah and other government officials with Hamas members.
PM Rami Hamdallah's convoy, which included the chief of Palestinian Authority's intelligence Majed Faraj, was attacked just after the delegation crossed through the Israeli-controlled Erez checkpoint also known as Beit Hanoun, in northern Gaza.  Faraj and Hamdallah remained unharmed, while seven security guards were wounded in the blast.
Responding to the Mehmoud Abbas' tough stance, Hamas issued a press release demanding for fresh elections for the post of President, members of parliament and national council.
It said, "We are shocked by the tense stance that Abbas has taken. This position burns bridges and strengthens division and strikes the unity of our people. In light of all this, Hamas calls for general elections, including presidential, parliamentary and national council elections, so that the Palestinian people can choose their leadership."
The serious rift between the two major Palestinian groups have emerged on the assassination attempt on Prime Minister shortly after US President Donald Trump's recognition of Jerusalem as Israeli capital. All Palestinian groups, especially Palestinian Authority and Hamas came together in condemning the Trump's move.
Read More: Saudi Arabia and Egypt gave prior consent for Trump's Jerusalem move
Following the Trump's move, Palestinian Authority President Mehmoud Abbas had announced that US has lost the role of mediator in Middle East peace talks. Organisation of Islamic Conference (OIC) held an emergency summit in Istanbul and condemned Trump's Jerusalem move.
Read More: OIC rejects Donald Trump's Jerusalem move at extraordinary Summit in Ankara
Fatah, the ruling party within the PA, and Hamas, the party that governs the occupied Gaza Strip, signed a reconciliation agreement in October 2017, ending a decade of division that saw two parallel governments operating in Gaza and the West Bank, respectively.  But the deal was never fully implemented due to differences within the two political factions, which are the largest in Palestinian politics.
Read More: Trump isolates US by recognizing Jerusalem as Israeli capital
Observers believe that the attack on Palestinian PM Rami Hamdallah's convoy was intended to put a strain on reconciliation efforts.  This could be the handiwork of those who can benefit from division between the two Palestinian groups.
Suicide bombing near Turkey Parliament building in Ankara, 2 cops injured
Turkey's main opposition leader Kemal Kilicdaroglu has slammed the attack in Ankara and stated that terrorism is a crime against humanity.
Turkey's interior minister Ali Yerlikaya on Sunday asserted that two terrorists carried out a bomb attack in front of the ministry buildings in Ankara. He added that one of them died in the explosion and the other was "neutralised" by authorities there.
Earlier, Turkish media reported that an explosion was heard near the parliament and ministerial buildings, and broadcasters showed footage of debris scattered on a street near the Interior Ministry. A footage from Reuters showed soldiers, ambulances, fire trucks and an armoured vehicle gathered near the centre of Turkey's capital, where the police have blocked multiple key roads.
Taking to social media X, formerly Twitter, Ali Yerlikaya, the interior minister, said that two police officers were slightly injured in the incident at 9:30 a.m. He added that two terrorists came with a light commercial vehicle in front of the entrance gate of the General Directorate of Security of their Ministry of Internal Affairs and carried out a bomb attack.
The interior minister further mentioned that one of the terrorists blew himself up and the other was neutralised, which usually means was killed. He noted that their struggle will continue until the last terrorist is neutralised.
Reports said that Ankara's chief prosecutor initiated an investigation into what it also called a terrorist attack. Authorities did not identify any specific militant group, as yet.
Meanwhile, Turkey's main opposition leader Kemal Kilicdaroglu has slammed the attack in Ankara and stated that terrorism is a crime against humanity. The leader of the Republican People's Party mentioned that no matter from whom and where it came from, they will fight it together as a country and will never give treacherous ambitions a chance.
The concerned authorities in Ankara have cautioned the citizens over suspicious packages and bags that are being detonated in a controlled manner. Ankara Security Directorate asked citizens not to panic.
Balochistan blast: Pakistan alleges India's involvement in suicide attack, toll rises to 60
Sarfaraz Bugti told media that civil, military and all other institution will jointly strike against the elements involved in the Mastung suicide bombing.
Pakistan interior minister Sarfaraz Bugti in a shocking claim alleged India's Research and Analysis Wing (RAW) intelligence agency for the suicide blast in Balochistan. The blast that took place on Friday claimed the lives of nearly 60 people, leaving 60 others injured. The Indian government, on the other hand, is yet to make an official statement on Sarfaraz Bugti's allegations.
The suicide bomb attack targeted a procession which gathered to celebrate Prophet Muhammad's birthday near the Madina Masjid at a place called Mastung. The blast tore through the mosque in the southern province of Balochistan after the bomber denoted his explosive near a police vehicle where the people gathered for the procession.
Sarfaraz Bugti told media at Quetta that civil, military and all other institution will jointly strike against the elements involved in the Mastung suicide bombing. Without providing much details or evidence, the Pakistan minister claimed that RAW is involved in the suicide attack.
Wasim Baig, the spokesman for Balochistan's health department, asserted that seven more people had died in hospital since Friday, which had caused the rise in the death toll. He added that more patients remained in critical condition.
In addition, a second attack on Friday at a mosque in northern Khyber Pakhtunkhwa had killed nearly five people. Police on Saturday lodged a report to initiate an investigation, mentioning that they had sent DNA from the suicide bomb attacker to be analysed.
So far, no group has claimed responsibility for either attack. A surge in terror attacks in Pakistan's western provinces has cast a shadow on preparations and public campaigning in the run-up to January's general elections, but until now the attacks had mostly targeted security forces.
The Pakistani Taliban (TTP), which is responsible for some of the bloodiest attacks in Pakistan since the group's formation in 2007, denied responsibility for Friday's blasts. On Saturday, a statement from the Counter-Terrorism Department (CTD) said that an FIR with murder charges and terrorism offences has been registered against an unidentified attacker.
The caretaker government of Balochistan announced three days of mourning in the wake of the attack.
Former Pakistan Prime Minister Imran Khan, Mahmood Qureshi held guilty in cipher case
The PTI leaders' trial has been requested by the FIA, and it is expected that they would be sentenced in accordance with the law.
Former Pakistan Prime Minister Imran Khan and former foreign minister Shah Mahmood Qureshi were found guilty on Saturday by Pakistan's top investigating agency in the cypher case, a case involving the alleged exposure of state secrets.
The charge sheet against Khan, the Tehreek-e-Insaf party chairman, and Qureshi, who are both presently being held in custody on judicial remand, was submitted by the Federal Investigation Agency (FIA) to a special court set up under the Official Secrets Act, according to the Pakistan Observer website.
Imran Khan, 70, was detained last month following the filing of a complaint against him for allegedly breaking the Official Secrets Act by revealing a covert diplomatic cable (cypher) issued by the nation's embassy in Washington last year in March.
The PTI leaders' trial has been requested by the FIA, and it is expected that they would be sentenced in accordance with the law.
The vice chairman of PTI is 75-year-old Shah Mahmood Qureshi. Asad Umar, the former general secretary of the PTI, is not on the FIA's list of suspects, but former principal secretary Azam Khan has been portrayed as a key witness in the FIA's case against Imran Khan, according to GeoTV, a well-known news outlet. The challan also contains Azam Khan's statement recorded under sections 161 and 164.
The speeches by Shah Mahmood Qureshi and Imran Khan from March 27 are also included in the FIA's attachment.
The Pakistan Observer further noted that the FIA had provided the court with a list of 28 witnesses in addition to the charge sheet. According to the report, the list of witnesses includes names such as current foreign secretary Asad Majid, previous foreign secretary Sohail Mahmood, and additional foreign secretary Faisal Niaz Tirmizi.
Imran Khan had been imprisoned on remand three times earlier on September 26. Along with Qureshi, his judicial remand was initially extended until September 13 and then again until September 26.
The former PM was transferred from Attock prison to the Adiala Jail in Rawalpindi on the same day, one day after the Islamabad High Court instructed authorities to do so.