Migrant Jihadis: ISIS Freed From Raqqa, In Search Of Endless Battles
[vc_row][vc_column][vc_column_text]By: Saeed Naqvi
 The final shoot out in the old Wild West movies has the camera dwell on the blaze engulfing the Sherrif's office. The Sherrif leads the charge into the saloon where the bad men lounge around.
If this analogy is to be applied to the final blow up taking place in West Asia, particularly since the Russians entered Syria in 2015 to help fight "terrorist outfits" like Jabhat al Nusra, Al Qaeda, ISIS and so on, the script will have to be expanded on an epic scale, focused not on one saloon but on a series of them, serving clusters of homesteads. Kobane, Aleppo, Idlib, Hama, Homs, Palmyra, Mosul, Raqqa, Kirkuk….
I can set the scene for the script having travelled to Homs, Hama, Daraa at the outset when US ambassador Stephen Ford was promoting democracy, meeting insurgents. It was an open road show.
Americans had said at the very outset of their involvement in Syria that they would not have boots on the ground. The Russians had indicated no such squeamishness. In other words, Russians would have a ringside seat on American's messy involvement with Nusra here or Al Qaeda there. These gangs were instantly transformed into freedom fighters whenever there was need. Simply put, terrorists fighting Assad were freedom fighters, worthy of support in training with lethal weapons. But Assad fighting terrorists was foul: he was a thug, thwarting democracy. Heads I win; tails you lose. Of course there must be excesses committed by Assad, like us in Kashmir, but the larger context dwarves these.
If you find my tone at a variance from what you have seen and read on Syria, do please watch Congressional hearings with Army Commanders managing the Syrian show. Not to be missed is the hapless Defence Secretary, Ashton Carter, admitting before a full press corps how a $500 million program to train Syrians had to be abandoned because the trainees handed their weapons to Jabhat al Nusra and found safe passage to few know where.
The mad pursuit for a New Middle East, repeatedly thwarted, keeps resurfacing, hydra-like. The driving force behind the neo con dream has metastasized into all sorts of outlandish and frightful scenarios.
Has the strategic community forgotten founder of Blackwater, Eric Prince's idea of "governing" Afghanistan exactly as the British governed India in early 20th century – under a "Viceroy". Yes, the written proposal was under active consideration of the President of the United States last summer, with his adviser Steve Bannon grinning from ear to ear at the prospect of Afghan raw materials funnelled suitably into Trump's "America first" receptacle. Read the Atlantic magazine on that theme. The deal was almost done.
Never mind if they were not allowed to reinvent the British empire in Afghanistan. The world's biggest provider of mercenary fighting units, controls other fiefdoms. They are part of the core group advising the Abu Dhabi ruler. Thanks to Blackwater, Latin American soldiers are fighting for the Saudis in Yemen. How will countries like Colombia utilize their citizens trained and tested in combat when they return home? Bogota may not have the money to afford Blackwater, but surely Trump may find battle ready Colombians useful against a country on his hit-list: Venezuela.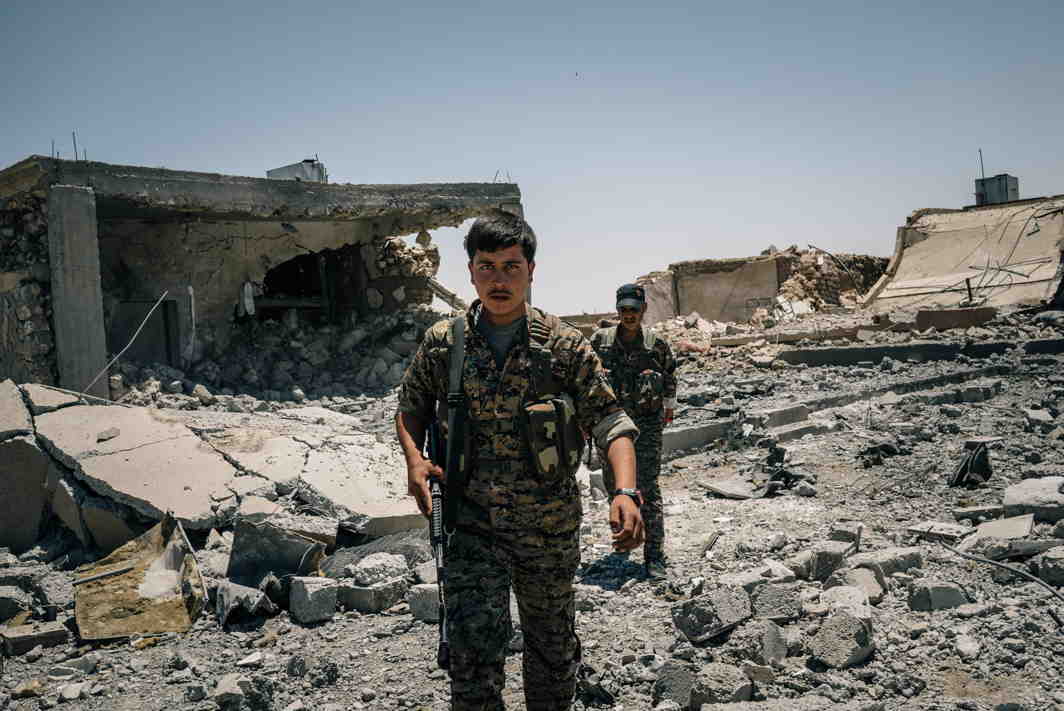 The most sinister part of the post 9/11 wars inaugurated by the US in West Asia is their endlessness. This has become so particularly after the Afghan and Iraqi experience. The US learnt at great cost that troops in both theatres were inextricably bogged down in the quick sand. Wisdom dawned. Air power, missiles, drones would provide cover, if needed, to "indigenous" foot soldiers, armed to the teeth with fierce Jihadism and financed, well, by Saudi Arabia. Qatar, Turkey, the Emirates have all had their hand in this till.
In its first, experimental stage this Jihadism was able to push back Soviet power from Afghanistan in 1989. The carelessness with which the US turned its back on this high voltage takfirism was stunning. US strategist Zbigniew Brzezinski's terse comment was typical: "We were focused on bringing down the Soviet Union; we were not worried about some stirred up Muslims."
These "stirred up" Muslims boomeranged in Kashmir, Cairo, Algiers. Post 9/11 wars, with Jihadist foot soldiers, has left a rich crop of Jihadists in platoon and company strength.
Robert Fisk, authoritative journalist on west Asia, has a telling piece in The Independent: "ISIS has lost Raqqa – so where will its fighters head to next?" the Syrian Democratic Forces, mostly Kurdish, backed by the Americans, were supposed to be fighting the IS.
What has actually happened is mind boggling. US air power has flattened Raqqa on the scale of Dresden in World War II. But, by Fisk's testimony, 275 IS fighters have been freed to go where they like. Deir ez-Zzor is one destination. But they can be relocated far afield to unsettle any targeted society with a Muslim minority.
The Moscow initiative on Afghanistan had anticipated some of this. When China, Iran, Afghanistan, Pakistan and eventually even India and several Central Asian countries met in Moscow last April, the main item on the agenda was that Taleban, being an Afghan National entity, should be incorporated in Kabul's power structure. The move would isolate IS, Al Qaeda and their affiliates and thus prevent them from unsettling countries in the region.
The Moscow initiative came after Trump's announcement: he would drastically scale down in Afghanistan. But, true to form, Trump changed his mind. He is now embarked on an open ended involvement in Afghanistan – with all accompanying dangers. In the name of fighting the IS, Afghanistan may end up becoming a hatchery for multiples of IS and Al Qaedas. The Mujahideen will have come full circle.
 Has Islamic militancy increased since the global war on terror was launched? An honest answer will place this piece in perspective.[/vc_column_text][/vc_column][/vc_row]
Iran couple, who danced on Tehran's streets, sentenced to prison | WATCH
A young Iranian couple can be seen dancing alone in front of the Azadi Tower in Tehran in the video. They walk together while grinning. As he raises her into the air, her uncovered hair falls behind her.
A young Iranian couple can be seen dancing alone in front of the Azadi Tower in Tehran in the video. They walk together while grinning. As he raises her into the air, her uncovered hair falls behind her.
Early in November—weeks after Mahsa Amini, 22, died at the hands of the police, igniting massive demonstrations in Iran—the video went viral on social media. These protests intensified in the months that followed as a result of the government's mass arrests and death programme.
Watch the viral video here:
According to Mizan, a news outlet supervised by the country's judiciary, the pair, Astiyazh Haghighi, 21, and Amir Mohammad Ahmadi, 22, have now each been given a five-year prison sentence on allegations such as colluding against national security and propaganda against the establishment.
The couple was detained on Nov 1 after they disregarded orders to stop their malicious behaviour online, according to the agency, which claimed they used their Instagram profiles to call for people to engage in the riots, a reference to the protests.
Each of the couple's Instagram profiles has close to a million subscribers. Haghighi identifies herself a blogger on her Instagram page. Her photographs depict a young woman who is enthusiastic about both her romance and fashion. She presents herself in baggy attire. Her bleach-blond hair is occasionally portrayed partially covered by a hood, hat, or bandanna.
Read Also: Kiara Advani-Sidharth Malhotra wedding date and venue revealed, couple opts for destination wedding in Rajasthan
According to Skylar Thompson, who oversees campaigning for Human Rights Activists in Iran, the judgement was rendered by Abolghassem Salavati, a Revolutionary Court judge known for handing out severe punishments. According to her, Haghighi was being imprisoned at Qarchak, a notorious and remote facility for incarcerating women southeast of the capital. According to her, Ahmadi was held at the Evin prison.
Thompson stated it another illustration of how devastating a system lacking complete due process can be — and has been for many years, adding that their arrests were the latest evidence of Iran's ill-functioning court.
According to the assessment of the organisation, 763 Iranians who took part in the protests have already faced trials and been found guilty.
The video, which was posted at the height of the protests, touched a nerve with Iranians and received a lot of attention on social media. The Iranian police, who were attempting to put an end to the demonstrations, took notice of it as well. The video was eventually removed, but other social media users have already uploaded it.
Akshay Kumar-Tiger Shroff grooves to Main Khiladi Tu Anari Song, fans rush in with praise | WATCH
Rocky Aur Rani Ki Prem Kahani: Ranveer Singh, Alia Bhatt's film to hit silver screen on THIS date
FBI searches US President Joe Biden's Delaware beach house, no classified documents found
The Federal Bureau of Investigation did not find any classified documents at US Joe Biden's Delaware beach house, his attorney Bob Bauer said on Wednesday.
The Federal Bureau of Investigation did not find any classified documents at US Joe Biden's Delaware beach house, his attorney Bob Bauer said on Wednesday. However, the agents did take some materials and handwritten notes relating to his time as vice president during the Obama administration for "further review."
The US law enforcement conducted a search of Biden's Rehoboth beach house in Delaware to hunt for improperly stored classified documents. The president's lawyer said that search was done with Biden's "full support and cooperation".
The search followed after some classified documents were found Biden's home in Wilmington and a former office space in Washington, DC.
The controversy has been played up by Republican-backed outlets as the incumbent president prepares to face a tough challenge from potential GOP- nominee and former president Donald Trump in the 2024 elections.
A Department of Justice (DoJ) appointed special counsel has been assigned to run an independent investigation, similar to another special counsel overseeing the probe of Trump's stash of classified documents discovered at his home in Florida.
Read Also: Video of Bihar IAS abusing officials during meeting goes viral, Twitter users call his tone justified | Watch
The White House has watered down the discovery of classified documents as Biden's "accidental mistakes" in storing the decade old documents from his time as vice president under the Obama administration.
However, unlike Trump, who allegedly resisted handing over the classified documents after leaving the White House in 2021, Biden claims he has cooperated with the authorities ever since classified documents turned up from his former office in Washington DC.
More documents were discovered by the FBI from Biden's private home in n Wilmington, the Delaware house, less often used by the Bidens, is now the third of the President's properties searched by the LEA.
Biden's attorney in a statement claimed that the DoJ launched the Delaware search without "advance public notice" but Biden cooperated.
Case filed in Bombay HC against Kiren Rijiju, Vice President for remarks against judiciary
Gorakhpur: 70-year-old man marries his 28-year-old daughter-in-law, photos viral | Know the story here
Indian-American Republican Nikki Haley poised to launch 2024 US Presidential bid
Two-time South Carolina Governor and former US Ambassador to the United Nations, Nikki Haley is poised to launch her Presidential bid for 2024 US elections on February 15
Two-time South Carolina Governor and former US Ambassador to the United Nations, Nikki Haley is poised to launch her Presidential bid for 2024 US elections on February 15. Haley, 51, will become the first Republic Party leader to challenge former US president Donald Trump who is seeking the party's nomination for 2024 polls.
According to a report by the Post and Courier, Haley is soon sending out an invite to her backers in which she has advertised a "special announcement" on February 15 at The Shed at the Charleston Visitor Center, a downtown gathering spot that could draw hundreds of supporters into the heart of the city's tourism district.
When she enters the race, Haley will be the first contender to join the contest against her former boss, who is currently the sole Republican seeking his party's 2024 nomination.
According to the South Carolina-based daily, the confirmation of Haley entering the Presidential race came on January 31 from a member of her inner circle. Previously, Haley had famously said would not run against Trump if her former boss decided to run again. However, she has shifted her stance recently citing the need for the US to look toward a different path.
According to the Washington Post, Haley could release a video signalling her plan for a White House bid as soon as this week. Trump, 76, announced his run last year.
Read Also: 3-year-old raped and murdered by mother's boyfriend in Bengaluru, police say
In a recent tweet, Haley said it's time for a new generation and a new leadership; "and its time to take our country back. America is worth the fight — and we're just getting started."
Haley told Fox News last month that the US needs a new leader who can take the country in a new direction.
In the Fox News interview, Haley emphasized that Democrat President Joe Biden, 80, should not be given a second term. When asked if she believes she is up for the job, Haley confidently answered that the current situation in the US demands a new leader and she can be that person who takes America in a new direction.
The next US presidential election is scheduled to be held on November 5, 2024.
Nikki Haley, an Indian-American, was born Nimrata Randhawa to Ajit Singh Randhawa and mother Raj Kaur Randhawa, who had emigrated from Punjab to Canada and then to the US in the 1960s. Her father was a professor at the Punjab Agricultural University, and her mother received a law degree from the Delhi University.
Budget 2023: Capital expenditure outlay hiked by 33 percent to Rs 10 lakh crore
Budget 2023: Nirmala Sitharaman announces Rs 2.40 lakh crore outlay for Railways; Kavach anti-collision system introduced